Amber Rudd and David Lidington among MPs to quit before election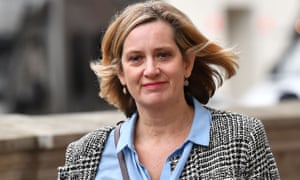 "But I have come to the conclusion that now is the right time for me to give a higher priority in terms of my time and energy, to Helen and my family who have given unstinting support to me during more than a quarter of a century in the House of Commons."
Rudd told the Standard she had met Johnson to make amends with him. She said she planned to meet Spencer to formally seek a return: "I'm happy to leave the House of Commons as a Conservative MP."
However, Spencer wrote to Rudd saying he was "not in a position to return the Conservative party whip to you".
In surrendering the whip, Spencer said, Rudd was "clear that you did not support the approach of the prime minister and did not have confidence in him. You have failed to provide me with assurances that you will not change your mind once more".
Having the party whip is "an honour, not a right, and as such it cannot be discarded or returned at will if it is to have any meaning", Spencer wrote to Rudd, who has a majority of only 346 in her Hastings and Rye constituency.
In return, Rudd tweeted: "Funny thing really, as just last week the PM asked me to stand in the general election. Afraid the chief whip has been briefed by the wrong 'No 10 sources' this morning but nonetheless I respect the decision he had been asked to make."
More than 50 MPs have so far announced they will stand down at the election, already well above the 31 who did not stand again in 2017. These were both two-year parliaments.
More members have stood down before other elections, with 90 not standing again in 2015, and 149 in 2010.
Rudd told the Standard: "I spoke to the prime minister and had a good meeting with him a few days ago. I'm really confident of my position. I will be leaving the House of Commons on perfectly good terms with the prime minister and I want him to succeed."
She returned to the cabinet as work and pensions secretary later the same year, but after Johnson replaced May she appeared increasingly uncomfortable with what she said was his pursuit of a no-deal Brexit.
Her decision takes the tally of MPs who have so far decided they will not re-contest their seats at the 12 December election to 50, a relatively high proportion of the Commons.