DoJ ordered to hand Democrats evidence from Mueller grand jury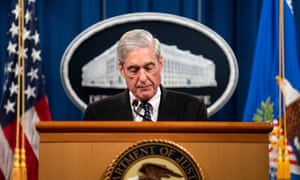 A judge on Friday ordered the justice department to give the House secret grand jury testimony from special counsel Robert Mueller's Russia investigation, handing a victory to Democrats who want it for the impeachment investigation of
Donald Trump
.
The ruling from chief US district judge Beryl Howell says that while the department had argued that existing law barred it from sharing the materials with Congress, "DoJ is wrong."
Howell wrote: "In carrying out the weighty constitutional duty of determining whether impeachment of the president is warranted, Congress need not redo the nearly two years of effort spent on the special counsel's investigation, nor risk being misled by witnesses, who may have provided information to the grand jury and the special counsel that varies from what they tell [the House judiciary committee]".
Justice department lawyers argued at a hearing earlier this month that House Democrats already had sufficient evidence from Mueller's investigation, including copies of summaries of FBI witness interviews.
The department had also argued that the House panel did not have a sufficient explanation for how the material would help in the committee's investigations of Trump, and that impeachment is not a "judicial proceeding" under the law, for which the information could be disclosed.
The news is the latest impeachment headache for Trump after a week of remarkable testimony in the impeachment inquiry investigating whether Trump and his officials tried to strong arm Ukraine into investigating former vice president and 2020 Democratic frontrunner Joe Biden and his son.
Impeachment investigators issued subpoenas Friday to three more
Trump administration
officials, demanding that they testify in the probe .
The chairs of the three House committees leading the impeachment inquiry subpoenaed two officials of the White House Office of Management and Budget: acting director Russell Vought and Michael Duffey, who oversees national security programs. They also subpoenaed state department counselor T Ulrich Brechbuhl.
Investigators asked all three earlier this month to testify, but none have appeared.
The Trump administration has refused to make its officials available for depositions in the investigation and resisted supplying documents as well. But witnesses have been appearing anyway after they are issued subpoenas.
"The committees therefore have no choice but to issue a subpoena compelling your mandatory appearance," the letters read.
Investigators want to know why nearly $400 million in military aid to Ukraine was delayed, even though it was approved by Congress and signed into law by Trump. Others have testified that Trump was demanding investigations of Democrats in exchange for the aid and for an Oval Office meeting coveted by Ukraine's new president, Volodymyr Zelenskiy.
John Bolton, Trump's former national security adviser, is also reportedly in talks to sit for a deposition with the House committees investigating impeachment.
Bolton
reportedly
referred to the effort to influence Ukraine in return for domestic political favors as like a "drug deal".
Bolton left the administration abruptly last month after Trump announced his departure in a tweet, and the former official has since been publicly critical of the president's foreign policy.