Coronavirus death toll in Spain passes 15,000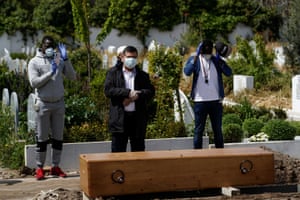 The number of people killed by the coronavirus in
Spain
passed 15,000 on Thursday, but the daily death toll fell to 683 after two consecutive days of rising above 740,
Sam Jones
reports from Madrid.
Recently released data from judicial authorities in Madrid suggest that 6,600 more people than usual died in the last two weeks of March, compared with the official tally of 3,500 Covid-19 deaths in the region.
Spain's prime minister, Pedro Sánchez, is once again seeking Congress's approval to extend the state of emergency – this time until 26 April.
Speaking in parliament on Thursday morning, he defended his government's handling of the Covid-19 crisis and said the continuing lockdown, which has been in effect since 14 March, was the best way to tackle contagion. He said:
We're all aware of the enormous sacrifice that this second extension requires from people who, quite logically, are fed up with the efforts of the past month.
But we also know that it's vitally important that we consolidate all the advances that have been made with so much pain and suffering over that time. And that's something we'll only manage to do if we maintain the state of emergency for as long as scientists consider it necessary.

Follow us on twitter (ajuede.com) or on Instagram (ajuedeman) for details of the global situation presently.