Donald J.Trump is Godsent: He has Won at Midwest with Large Margin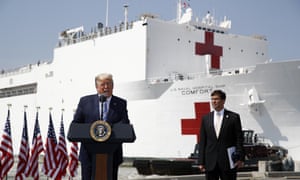 President Trump speaks in front of the US Navy hospital ship USNS Comfort in Norfolk, Virginia, before it sailed to New York City. Photograph: Patrick Semansky/AP
Holly Rasmussen is not one to pay much attention to the detail of politics, and certainly not to sit through presidential press conferences. After all, she has a business to run. Or used to.
But in recent days, Rasmussen, who lives in northern Iowa, has been drawn to President Trump's widely scorned daily television briefings, and she likes what she sees.
"I think he is staying extremely optimistic and I think that's what a lot of us need," she said. "I think he's leading. And this is an unprecedented time to do the best he can without having more people die and the economy completely tank."
Rasmussen is one of those voters who swung from Barack Obama to Trump and then stuck with the president because she reckoned he was doing a good job with the economy. Now, as coronavirus destroys lives, jobs and businesses – and threatens to drive Rasmussen's cosmetology school to the wall – she is among those Americans who have bumped up the president's approval ratings even as he faces a barrage of scorn over his handling of the pandemic.
The latest
Gallup poll
gave Trump the highest approval numbers of his presidency, bolstered by swing voters, independents and even some Democrats.
The poll is no more than a snapshot in a rapidly evolving crisis, and opinions may change radically in the coming weeks as the death toll rises and the loss of jobs bites deep.
Follow us on twitter (ajuede.com) or on Instagram (ajuedeman) for details of the global situation presently.