"Trump has blatantly played down the Covid-19 crisis" - Ashly Moore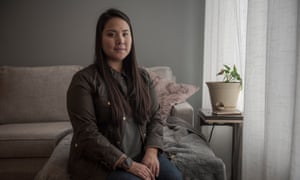 Ashly Moore works as an occupational therapist at a hospital in Des Moines, Iowa. She is still seeing patients at some risk to herself because only those showing symptoms are tested for coronavirus.
"It is worrying but there's not a whole lot you can do about it. And I'm happy to have a job. A lot of people right now are experiencing layoffs and uncertainty. You just take all the precautions that you can," she said.
Moore said she understands that the pandemic has evolved fast but she does not see leadership from the White House from a president who previously described the growing coronavirus threat as a hoax and then gave himself full marks for handling the crisis. "I tried to be patient and have understanding that to be a president or to be in any kind of position during this type of a crisis is terrifying.
You're criticised no matter what you do. But he has blatantly downplayed the seriousness of this,' she said.
"He's obviously concerned about the optics. He's concerned about his re-election. But if you truly care about leading a nation in a time of crisis, your own re-election really shouldn't be on your radar. It's very selfish and egocentric to make that a priority right now."
Rasmussen though is not alone in the rural midwest in seeing the president's shifting position as a reflection of her own uncertainty. At first, the numbers of deaths from coronavirus, compared them to lives claimed by flu, opioid overdoses and car crashes did not look startling, and some wondered if the threat was far away and overblown. Rasmussen came to accept the scale of the crisis as she listened to friends and relatives working in health care in bigger cities.
"I myself was thinking, coming from a small community, you don't see this. But I do have a lot of people in bigger cities that are in health care and hearing some of their stories about not having proper PPE and masks and things, then it started getting a little bit closer to home," she said.
Follow us on twitter (ajuede.com) or on Instagram (ajuedeman) for details of the global situation presently.