virtual graduation ceremony 'Graduate Together'
Get link

Facebook

Twitter

Pinterest

Email

Other Apps

Graduating high school seniors may not have the traditional pomp and circumstance this year as they prepare to head off to college.
But that doesn't mean they won't be celebrated.
This weekend, the class of 2020 will get a massive virtual graduation ceremony featuring athletes, artists and even some former US presidents.
Here's what you should know and how you can tune in.
The special will be split into two events. The first, "Class of 2020: In This Together," is a CNN production that will be hosted by Erin Burnett, Don Lemon and Jake Tapper. It will air worldwide beginning at 7 p.m. ET.
At 8 p.m. ET, CNN will show the second event: "Graduate Together: America Honors the High School Class of 2020," a massive virtual commencement event hosted by The LeBron James Family Foundation, The Entertainment Industry Foundation, and XQ Institute.
"These students have worked incredibly hard for this and there's no way we can let that go unrecognized," James said in a statement earlier this month. "While this won't be the graduation experience they were supposed to get, we hope we can still give them something special because they deserve it."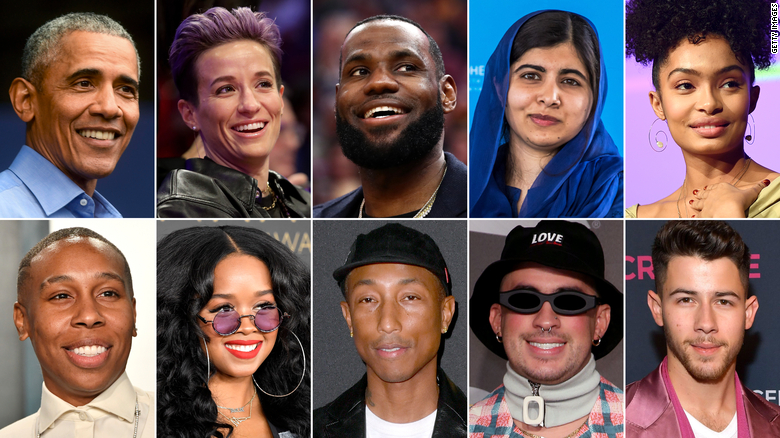 CNN's special, "Class of 2020: In This Together," will feature a handful of big names, including former President Bill Clinton and comedians and actors Amy Schumer, Jason Alexander and Keegan-Michael Key, among others. There will also be musical performances by Yo-Yo Ma, Bazzi and Foster the People.
Also coming to the virtual commencement: The Jonas Brothers, Zendaya, Olivia Wilde, Ben Platt, Megan Rapinoe, Yara Shahidi, Lena Waithe, Pharrell Williams, Malala Yousafzai, and more.
Can students, families and teachers join in?
Yes. Graduating seniors are encouraged to submit their portrait for a digital yearbook on
the "Graduate Together" website
. They can submit a video of themselves giving a speech to other grads or thanking their teachers. They can also nominate themselves or others for senior superlatives.
Their parents are welcome to share what they've learned from their students or what they love about their kid's school.
Educators are also encouraged to share stories about working with their students to highlight their own hard work and their colleagues.
Follow us on twitter (ajuede.com) or on Instagram (ajuedeman) for details of the global situation presently.
Get link

Facebook

Twitter

Pinterest

Email

Other Apps