Coronavirus: Trump Gives a Remark on the Virus briefing forum in the White House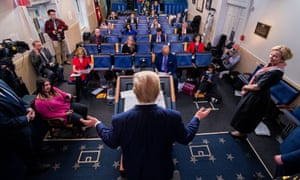 In addition, Rasmussen lives in the small city of Cresco close to Iowa's northern border with Minnesota. Like much of the midwest, it has yet to be badly hit by the virus and attitudes to the president's handling of the crisis may shift against him when it is.
But for now, towns and cities across the region are watching the approach of coronavirus with fearful resignation, and many there are prepared to give Trump the benefit of the doubt for now.
In southern Missouri, Cindy Anderson – doing her job in the payroll department of a mental health counselling service from home – worries that when the virus finally
hits, small cities like Kennet will be woefully unprepared not least because its only hospital closed a
"I think we've been forgotten about in a little part of the world because we're rural. Unfortunately, the area in which we live, there is a lot of poverty and a lot of sick people. When it hits, I'm sure that it will be devastating," she said.
For all that, Anderson thinks Trump is making the best of a bad situation even if he has made mistakes. "I don't know if he's got it right, but I think he's trying. I think he's effective," she said.
But the 65 year-old is frustrated at what she regards as politicised attacks on Trump over his actions, or lack of them, early on in the crisis when she says the focus should be on how to get through this.
"I think that a lot of the news media, they don't tell the whole story. They tell the piece that sounds the most damning and they don't add the other piece," she said.
That's a view shared by Rasmussen.
"I would rather have just the issues of what's going on with the coronavirus and what they are doing to help us then just nit picking stuff that I was seeing," she said.
Rasmussin is critical of the scorn poured on the president when he hesitated to call for businesses to close because of the economic impact. She said his concerns about the financial consequences were legitimate.
Follow us on twitter (ajuede.com) or on Instagram (ajuedeman) for details of the global situation presently.