Trump says 'I kept my promises' as he marks 450 miles of border wall, amid riot fallout in DC
President Trump declared "I kept my promises" on Tuesday regarding his pledge to build a wall at the southern border.
His statement was made to mark 450 miles of construction along the border as his administration continues to handle damage control because of the fallout from the riot at the Capitol last week.
"For years, politicians ran for office promising to secure the border – only to get elected and do the absolute exact opposite, they even promised a wall," he said in Alamo, Texas, where he signed a plaque on the wall. "But unlike those who came before me, I kept my promises. Today, we celebrate an extraordinary milestone: the completion of the promised 450 miles of border wall," he said.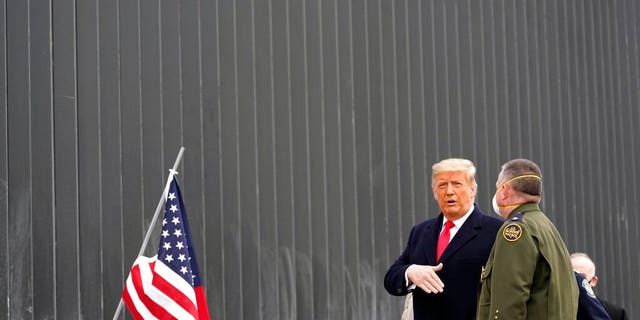 Trump had promised that his administration would build 450 miles of wall by the end of 2020 and last week officials announced that that had been achieved. Additionally, there are more than 300 miles under construction or pre-construction. It's a remarkable shift in construction from last year -- where only 100 miles had been built by Jan. 2020.
Critics have noted that much of the construction replaces a structure that was always there. But officials have said that there is no comparison between the old landing mat-style structure that could easily be climbed or pushed over, and the new 30-foot steel bollards that are made with anti-climb technology, cameras, lighting and roads.
The wall provided a key 2016 campaign promise for Trump and a symbol for his efforts to get tough on illegal immigration. The wall is just one of a number of policies to secure the border. Others include the Migrant Protection Protocols, which keeps migrants in Mexico as they await their hearings, and asylum cooperative agreements with Northern Triangle countries to stem the flow of migrants to the border.
Follow us on twitter (ajuede.com) or on Instagram (ajuedeman) for details of the global situation presently.