Who's running for president? See a rundown of the 2024 candidates
Get link

Facebook

Twitter

Pinterest

Email

Other Apps
With roughly a year and a half until the 2024 presidential contest, the field of candidates is largely set.
Former President Donald Trump and Florida Gov. Ron DeSantis have dominated the early Republican race as the other candidates look for an opening to take them on. President Joe Biden faces a couple of Democratic challengers but is expected to secure his party's nomination.
Here's a look at the candidates competing for the Republican and Democratic nominations:
REPUBLICAN PRIMARY FIELD
The former president announced his third campaign for the White House on Nov. 15 at his Mar-a-Lago resort, forcing the party to again decide whether to embrace a candidate whose refusal to accept defeat in 2020 sparked the U.S. Capitol attack and still dominates his speeches.
The GOP front-runner remains hugely popular in the Republican Party, despite making history as the first president to be impeached twice and inciting the Capitol insurrection on Jan. 6, 2021. Referring to himself as America's "most pro-life president," Trump's three nominations of conservative judges to the Supreme Court paved the way for the reversal of Roe v. Wade, which had legalized abortion nationwide for nearly 50 years. Sweeping criminal justice reforms he signed into law in 2019 eased mandatory minimum sentences and gave judges more discretion in sentencing.
In March, Trump became the first former U.S. president to be criminally charged, facing 34 felony counts of falsifying business records as part of a hush money scheme. He is now under indictment on dozens of charges related to alleged mishandling and retention of classified documents.
The Florida governor officially launched his 2024 presidential campaign on May 24 in a glitch-marred Twitter announcement, casting himself as Trump's only legitimate Republican rival.
Heralding his state as a place "where woke goes to die," DeSantis has framed his campaign around a desire to bring the conservative policies he championed in Florida to the national stage. He has made a name for himself battling with Disney over the entertainment giant's opposition to a bill dubbed by critics as the "Don't Say Gay" law, which bans instruction or classroom discussion of LGBTQ issues in Florida public schools for all grades.
Under his governorship, the state has also banned abortions after six weeks of pregnancy and blocked public colleges from using federal or state funding on diversity programs
The former vice president opened his White House bid on June 7 in Iowa with forceful criticism of Trump, accusing his onetime boss of abandoning conservative principles and arguing Trump's Jan. 6 action and inaction amounted to a dereliction of duty.
While lauding the accomplishments of the "Trump-Pence administration," Pence has said Trump endangered the vice president's family and the lives of everyone at the U.S. Capitol by falsely insisting that Pence had the power to overturn the results of the 2020 election.
He faces an uphill battle in a party in which Trump remains the most dominant figure.
The South Carolina senator launched his campaign May 22 in his hometown of North Charleston with what he's casting as an optimistic and compassionate message that can serve as a contrast with the rest of the field.
The Senate's sole Black Republican, Scott has rejected the notion that the country is inherently racist and repudiated the teaching of critical race theory. He has said his party and the country are at a crossroads and must choose between "victimhood or victory."
The former United Nations ambassador and South Carolina governor became the first major GOP challenger to Trump when she kicked off her campaign on Feb. 15 in Charleston. She is the only woman in the GOP field.
The former Trump Cabinet official once said she wouldn't challenge her former boss for the White House in 2024. But she changed her mind, citing the country's economic troubles and the need for "generational change," a nod to the 77-year-old Trump's age.
The wealthy biotech entrepreneur and author of "Woke, Inc." kicked off his presidential campaign on Feb. 21 with a video and op-ed.
The son of Indian immigrants, he has gained stature in conservative circles for his criticism of the environmental, social and corporate governance movement that aims to promote socially responsible investing. He has largely self-funded his campaign so far.
The former two-term New Jersey governor went after Trump when announcing his presidential campaign on June 6 in New Hampshire, calling the former president a "lonely, self-consumed, self-serving mirror hog" and arguing that he's the only one who can stop him.
Christie, a 2016 presidential candidate and former Trump adviser, has said that others may be afraid to challenge the former president, but he has no such qualms. "The reason I'm going after Trump is twofold," Christie said. "One, he deserves it. And two, it's the way to win."
The former two-term Arkansas governor launched his presidential campaign on April 26 in Bentonville, pledging to "bring out the best of America" and to reform federal law enforcement agencies.
He announced his campaign shortly after Trump was indicted by a grand jury in New York and has called for the former president to drop out of the race, saying, "The office is more important than any individual person."
The two-term North Dakota governor announced his candidacy on June 7 in Fargo. A former computer software entrepreneur, he is known to few outside his home state but portrays himself as a commonsense, rural-state conservative experienced in energy policy.
The conservative talk radio host announced his campaign on April 20 on Fox News' "Tucker Carlson Tonight." He made his first bid for public office in 2021 in a failed effort to replace California Gov. Gavin Newsom in a recall election.
Johnson launched his campaign March 3. The businessman tried to run for Michigan governor in 2022 but didn't make the ballot after the state's elections bureau determined his campaign filed thousands of fraudulent nominating signatures. He ran an ad during this year's Super Bowl targeting voters in Iowa, the first state to vote on the GOP presidential field.
The Miami mayor announced his presidential bid on June 15 on ABC's "Good Morning America." Suarez, a two-term mayor first elected in 2017, also recently served as president of the U.S. Conference of Mayors. He is the only Hispanic candidate in the race.
The former Texas congressman kicked off his bid on June 22 on "CBS Mornings," hoping to build momentum as a more moderate alternative to Trump. Hurd, a onetime CIA officer and fierce Trump critic, served three terms in the House through January 2021 and was the chamber's only Black Republican during his final two years in office.
DEMOCRATIC PRIMARY FIELD
President Joe Biden formally announced his reelection campaign on April 25 in a video, asking voters for time to "finish this job."
Biden, the oldest president in America history, would be 86 at the end of a second term, and his age has prompted some of his critics to question whether he can serve effectively. A notable swath of Democratic voters has indicated they would prefer he not run, though he is expected to easily win the Democratic nomination.
Biden, who has vowed to "restore the soul of America," plans to run on his record. He spent his first two years as president combating the coronavirus pandemic and pushing through major bills such as the bipartisan infrastructure package and legislation to promote high-tech manufacturing and climate measures.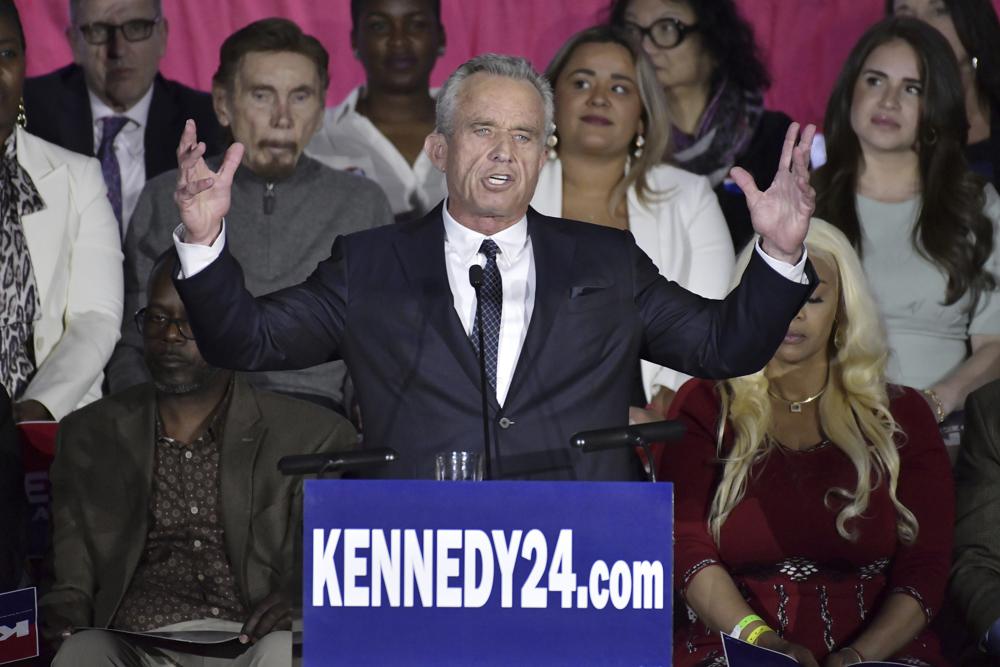 The bestselling author and environmental lawyer launched a long-shot bid to challenge Biden on April 19 in Boston.
A nephew of President John F. Kennedy and son of Attorney General Robert F. Kennedy, he has emerged as one of the leading voices of the anti-vaccine movement, with public health experts and even members of his own family describing his work as misleading and dangerous. He has also been linked to far-right figures in recent years.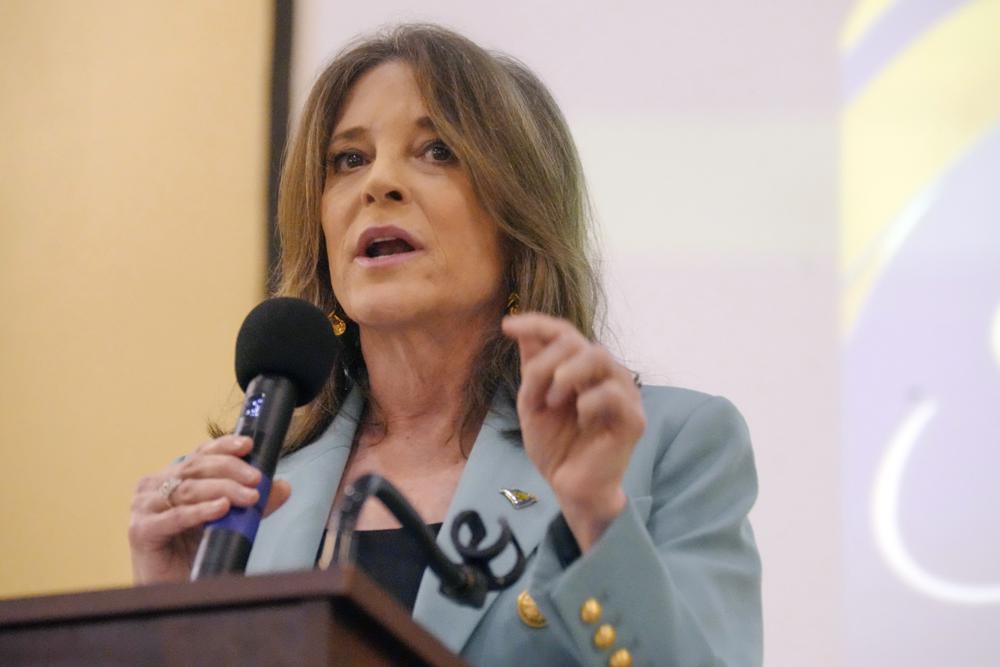 Self-help author Marianne Williamson entered the Democratic primary on March 4 in Washington, calling for "a vision of justice and love that is so powerful that it will override the forces of hatred and injustice and fear."
During her unsuccessful 2020 presidential campaign, she proposed the creation of a Department of Peace and argued the federal government should pay large financial reparations to Black Americans as atonement for centuries of slavery and discrimination.
Get link

Facebook

Twitter

Pinterest

Email

Other Apps