Hawaii Fire: "Warning sirens not being activated", Agency says


Warning sirens were not activated during Maui's deadly wildfires, the Hawaii Emergency Services Administration said today.
"Neither Maui nor HI-EMA activated warning sirens on Maui during the wildfire incident," the agency said, but three other alert systems were implemented.
Alerts were sent by mobile devices; radio and television; and the county's opt-in resident alert system, the agency said.
"The sirens are used to alert the public to seek additional information; they do not necessarily indicate an evacuation," emergency officials said.
Jeff Bezos, Lauren Sánchez pledge $100 million to recovery
Curfew in place as residents regain access
Residents and tourists are being allowed to return to some areas of West Maui, but a curfew will be enforced and some parts of Lahaina will remain off-limits, Maui County officials said.
Officials have implemented a 10 p.m.-6 a.m. curfew for Lahaina and other hard-hit areas.
West Maui continued to be without water and power Friday. "The curfew is intended to protect residences and property," Maui County government said.
A restricted zone in historic Lahaina town as well as other parts of West Maui devastated by the blaze will remain closed to the public as crews search for fire victims, the county said.
Residents will need identification with a local address; visitors will need to show hotel reservations, officials said.
Governor said its too early to determine if siren system failed
Hawaii Gov. Josh Green said he couldn't say for certain if Maui's emergency siren system was activated properly ahead of the deadly wildfires.
"It's too early for me to tell. Much of the equipment was destroyed with fire and it's a very remote place," Green told NBC News' Lester Holt on Friday. "This was a western edge of the island of Maui. Of course, we would never diminish any kind of responsibility."
Wildfires, Green said, took residents by surprise because 80 mph-winds, the remnants of Hurricane Dora, knocked out telecommunications and essentially rendered the island dark. Fire personnel were also fighting three other fires, Green said.
"I'm very reluctant to blame anyone," he said. "We were fighting multiple fires that were being moved. Because of these winds, we're of course, like everyone else, dealing with the extreme changes, global warming, the drying of our land. And then when this storm passed to the south of Hawaii, that was the hurricane — it sent those winds."
Pope Francis offers prayers for the people of Maui
Pope Francis is praying for those who were killed, injured or displaced by the Hawaii wildfires, as well as first responders and emergency personnel, according to the Vatican.
Francis invoked "God's blessings of strength and peace" for all the people of Maui.
Resident says neighbors desperate for information, supplies
"You on the mainland know more about what's going on than we do," Kaanapali resident Albena Leon told NBC News about the near-total communication blackout on the west side of Maui.
"It's all word-of-mouth, we're in the dark, it's like the old days."
Leon said people are desperate for basic supplies. "We need diapers, medical supplies, people have not had anything to eat. There have been lots of clothing donations, but we need toiletries — toothpaste, shampoo, Advil, insulin, eye drops."
She said has a truck loaded full of donated items to distribute to neighbors in need but no gas. She's looking for someone who can give her just one gallon so she can make some deliveries.
"It's hard, overwhelming. That's why each of us are taking one thing we can do, and just doing it," Leon said.
She asked to share a plea she has no way to get to local authorities or departing tourists: "It would be awesome if someone could put a bin at the airport for the tourists to leave their extra sunscreen, hats, clothes — don't carry it home — we need it."
Cruise ship operations halted at Kahului Harbor in Maui
No cruise ships will be docking into the Kahului Harbor in Maui, according to the Hawaii Transportation Department.
The state's DOT made the announcement Friday and said cruise ship operations are halted because of the governor's executive proclamation signed Thursday that lasts through Aug. 31.
The public will be informed about future changes, according to the DOT.
Hawaii governor: People will be able to return to Lahaina on Friday
Green said residents will be able to return to the wildfire-decimated Lahaina later Friday.
"Families will be able to get back into Lahaina today," the governor told NBC affiliate KHNL of Honolulu. "The mayor will be announcing the ability for people to go back in, to go to their homes, to go check on whatever was lost, and people will be able to get out too to get more water and services."
He warned residents to brace for the worst.
"This will bring Hawaii together, but prepare yourself for the emotional turmoil because if I feel it — and I have the experience as an emergency guy who saw tragedy in the course of 25 years in the hospital — it will be shocking to a lot of other people," he said.
He said he expects the death toll to rise "significantly" as search and rescue teams enter burned houses and structures.
Wind gusts over 80 mph clocked in Hawaii this week
Top wind gust speeds above 80 mph were clocked across Hawaii this week, according to data from the National Weather Service.
In Hawaii County, a gust of 82 mph was recorded 4 miles north of Kawaihae at 4:35 p.m. local time Tuesday. Another 82 mph wind gust was reported in Oahu Forest in Honolulu County around the same time.
In Maui County, a 67 mph wind gust was reported in Na Kula at 7:35 a.m. Wednesday. Since Monday, the islands have been battered with wind gusts most frequently in the range of 45-65 mph.
Oprah Winfrey hands out pillows and supplies at Maui shelter
Oprah Winfrey, a part-time Maui resident, handed out supplies at a local shelter for wildfire victims Thursday.
"It's a little overwhelming, you know. But I'm really so pleased to have so many people you know supporting and people just bringing what they can," she said to the BBC.
"I came earlier just to see what people needed, then went shopping because often, you know, you make donations of clothes or whatever it is, it's not really what people need. I actually went to Walmart and Costco, and got pillows, shampoo, diapers, sheets, pillowcases," Winfrey added.
Posts on social media showed the media mogul walking around the shelter and handing out pillows to people sleeping on cots.
A spokesperson for Oprah told NBC News: "She will do more, as it becomes clear which funds can be the most helpful for the short-term and long-term rebuilding."
Lauren Sánchez, the fiancée of Amazon CEO Jeff Bezos who has property on Maui, shared on Threads on Thursday that the couple will be also donating to help recovery efforts.
"The tragedy unfolding in Maui is beyond heartbreaking. Jeff and I have been on the phone with local residents and officials, and will be making donations to help," she wrote.
Still-standing banyan tree offers hope to locals
A large banyan tree in the heart of Old Lahaina that was badly scorched by the fires that ransacked Maui appears to have emerged from the flames still standing.
In the aftermath of the devastating fires, residents are looking to the tree as a symbol of hope.
The banyan tree was just an 8-foot sapling when it was planted in 1873 as a gift shipped from India, commemorating the 50th anniversary of the first Protestant mission in Lahaina, which at the time was Hawaii's capital.
Its sprawling branches — some stretching more than 60 feet — provided shade to many generations there.
John-Mario Sevilla, 60, grew up in Maui and would often visit Lahaina with his family. He previously told NBC News he remembers sitting in church as the ocean breeze blew in through the open windows, and watching the traditional dancing under the banyan tree.
Hawaiian officials walk through razed Lahaina
New photos show Hawaiian officials walking through the scorched remains of Lahaina on Thursday, where buildings were reduced to piles of rubble and mangled metal.
Maui County shared the photos showing Bissen and Green walking along the once-bustling Front Street, the historical Sugar Cane Train and Banyan Court, all eerily quiet and covered in soot.
One photo shows the historic Lahaina banyan tree, which was planted in April 1873. The massive exotic Indian banyan stands over 60 feet high and has 46 major trunks according to the Lahaina Restoration Foundation. It appeared to be standing strong, with smoke damage visible by some bases.
Hawaiian Airlines will continue to have extra flights to evacuate Maui
Hawaiian Airlines CEO and President Peter Ingram said the airline is taking the evacuation process "day by day" and it's unclear how many people still need to be evacuated from the tropical tourist hot spot.
"We've really been treating it as how much capacity can we put in the air. We've added extra flights yesterday, we've got extra flights ready to go today, we're going to operate that schedule and we're prepared to have extra flights through the weekend," he said on MSNBC on Friday.
Weary travelers arriving at the airport and boarding flights to Honolulu have been "grateful," he said.
"I think many of the guests who have arrived at the airport, particularly the people who arrived on buses from those affected areas, they're just so relieved to get somewhere where's there's power, there's running water, where they can get a bite to eat," Ingram said.
Ingram said in a statement Thursday that almost 500 employees call Maui home.
"I know our teammates are very worried about their community. Many of them have family members who have lost properties, close friends that they haven't been able to get in touch with yet, but they're really just trying to extend our Hawaiian hospitality to the guests that we know need to get on their way and get off of Maui and people are just really focused on taking care of that mission," Ingram said.
Vice President Kamala Harris calls Hawaii wildfires 'tragic'
Vice President Kamala Harris told reporters Friday the White House is monitoring the catastrophe in Hawaii "closely."
"We are coordinating federal resources to swiftly get there to support the work that has to be done both in terms of recovery, but to just support the folks on the ground," she said.
"It is tragic what has happened there. I have full faith and confidence in the leadership in Hawaii to stay on top of this, but they will have our full support," Harris said. "Our prayers are with the families and with the leaders."
She said she'd like to go to Hawaii to tour the damage, but doesn't want to distract from the needs of the victims and first responders.
"We want to, obviously, as with most of these situations, do whatever is in the best interest of the folks on the ground," Harris said.
Lahaina resident says she's 'lucky to be alive'
Lahaina resident May Wedelin Lee said she's "lucky to be alive" after she frantically evacuated her historic town, much of it now reduced to smoldering rubble.
"I'm just lucky to get out of there when I did. It's just the worst scenario possible times ten," she said on NBC News Now. "It's seeing everything you love, seeing your whole life just go up in flames, literally go up in flames, in front of you."
She said she and her neighbors, who live in the heart of Lahaina, were watching the smoke for a couple of hours. It wasn't until she saw a palm tree about 50 yards away catch fire that she realized she needed to escape.
"It was minutes, it happened so fast. The smoke jumped, the fire jumped, explosions were happening," she recalled.
Thankfully, she was able to account for most people in her inner circle. Now, the survivors of Lahaina need supplies, food and, most importantly, a roof over their heads, she said.
"Lahaina is a very special community. We've been through a lot in these last few years and we're close and I just pray that we can rebuild and that the focus can be us and not tourism, that it can be us," Lee said.
Like the 'Titanic': Locals jumped into the ocean to escape
Dr. Reza Danesh, an emergency room doctor who responded to Lahaina this week, recalled the horrific stories survivors shared with him of swimming out to sea to escape flames engulfing Maui.
The fire spread in a matter of 30 seconds from block to block in the historic seaside town that was once the capital of the Kingdom of Hawaii, he said.
"That whole front street and that whole area just burned down and people ran into the water, they were jumping into the ocean, they were paddling out to sea," Danesh said on NBC's "TODAY" show Friday.
"This one girl said she held on to like some metal rod or something in the middle, like 30 yards out, for like seven hours until she was able to come back in. Her friend was hanging on with her and her friend didn't survive. Kind of like a 'Titanic' story," he said.
The Coast Guard said 14 people, including two children, who went into the ocean to escape the blazes and smoke Tuesday evening, were rescued.
'It felt like a war zone': ER doctor says on responding to Lahaina
Dr. Reza Danesh, who runs an urgent care center and mobile clinic, Modo Mobile, described the horror of seeing Lahaina after wildfires raged through, describing it as a "war zone."
"I started getting text messages from some of the EMS people, paramedics and firefighters, that there's bodies on the ground, like lots. And that was kind of disturbing. It was just kind of surreal," he said on NBC's "TODAY" show Friday.
He said that when he first arrived with his mobile unit, parts of Lahaina were still on fire.
"I could see trees burning, I could feel the smoke, I could feel the heat," he said. "It was basically like another pandemic, to explain it. It was a ghost town, very apocalyptic."
He said he found survivors, some in need of medical care, and others needing food and water.
Danesh said he was mentally ready for battle, armed with items for wound and burn care, but found that survivors needed much more.
"It was the people with chronic diseases that were going to become acute medical issues. People with seizure meds, diabetics, hypertension, people just didn't have their medication," he said.
Adding to the medical crisis, a pharmacy had burned down, there was no electricity, and no cellphone signal, he said.
Firefighters continue to battle Maui fires, extra help arrives
Firefighters continue to work to contain fires in Lahaina, Pulehu/Kihei and Upcountry Maui and extinguish flare-ups, the county said in an updateFriday at 2:45 a.m. local time (8:45 a.m. ET).
The efforts to tame the blazes were bolstered by 21 firefighters from the Honolulu Fire Department, seven supervisory personnel and four vehicles. A Federal Emergency Management Agency search and rescue team with the Nevada Task Force arrived Thursday night with two K-9 cadaver dogs, the update said.
Power and cellphone service are also slowly coming back.
Power was stored to Upcountry water pumping stations early Friday, and "water will be restored after lines are flushed," the county said. Meanwhile, officials said "some cellphone service was available in West Maui today."
Around 10,900 people remain without power in Maui, according to PowerOutage.us as of 3:30 a.m. local time (9:30 a.m. ET).
Six emergency shelters remain open in Maui.
Food, water, supplies and clothing, as well as a limited supply of baby products, will be distributed to residents from 10 a.m. to 3 p.m. local time Friday at the Ritz-Carlton, Kapalua.
Almost 15,000 visitors left Maui on Thursday
On Thursday, 14,900 visitors left Maui on flights, the county said in an update early Friday.
American Airlines and United Airlines had flown empty planes to the island Thursday to aid in evacuating travelers whose plans were upended by the wildfires.
Earlier Thursday, tourism officials reported that more than 11,000 people had been evacuated.
Survivors recount unbearable heat, jumping into ocean to escape flames
Mike Cicchino and his wife, Andreza, dove into the ocean to escape getting burned when flames engulfed their neighborhood this week.
"The current was pulling us out. You can't see anything. At one point, we have fire on us and we don't know where land is," he said in an interview that aired Friday on NBC's "TODAY" show.
When they made it back to shore and looked for their dogs, they were met by the desperate cries of their neighbors.
"It was like every 10 feet was 'Help! Help!' And I helped as many people as I possibly could but I couldn't go any further, because there was just too much heat," Cicchino said.
Another couple, Sam and Josie Younger, said they escaped their beachfront home with seconds to spare when a blaze broke out.
"It was unspeakable, unthinkable really, just seeing what was going on, all the destruction, all the people," Younger told NBC News' Dana Griffin, who is on the ground in Hawaii.
Despite the devastation on the island, Younger said, he's remains hopeful Maui will bounce back.
"It's gonna take a lot of work and a lot of years and a lot of manpower but I have no doubt that it will bounce back."
When asked about siren system issues, Maui County mayor says fires posed 'impossible situation'
Questions have swirled on whether the siren system in Maui failed to properly warn residents to evacuate as wildfires rapidly spread in the island's west side.
Bissen said on NBC's "TODAY" show Friday: "I think this was an impossible situation."
"The winds that hit us in on that side of the island … in some areas, gusts were up to 80 mph, some sustained between 45 and 60-65 mph. So, everything happened so quickly," he explained. "I can't comment on whether or not the sirens sounded or not, but I know the fires came up so quickly and they spread so fast. There were some initially, when there was a smaller fire, homes were evacuated."
He noted that "many, many" people evacuated from their homes as 2,100 people were in shelters Tuesday night, not including many visitors in Kaanapali who sheltered in place in their hotels.
"Again, there was no power, there was no water. So that's what we were dealing with," he added.
Hawaii Emergency Management records showed no indication that warning sirens were triggered before the fires erupted, officials said, and some Lahaina survivors said they didn't hear any sirens, but fled when they saw flames or heard explosions, The Associated Press reported.
'Our focus is on finding missing persons': Maui County mayor says
Bissen said the focus in Maui is finding missing people and reuniting families as the death toll mounted to 55.
"I think that number could go up," he said on NBC's "TODAY" show Friday, noting so far the victims found were outside buildings.
"So we have not yet searched in the interior of the buildings. We're waiting for FEMA to help with that search as they are equipped to handle the hazmat conditions of the building."
"Right now, our focus is on finding any missing persons, we want to reunite families, we want to give people information whether their family members at one of our shelters or whether they are among those who have perished, we need to get that information to our citizens," he said.
The west side of the island in Lahaina is still in crisis: no power, no water, no communication ability, no internet or phone service, the mayor said. Crews have been going to the impacted areas with supplies and water, he added.
Lahaina man describes seeing bodies in the sea
A man who stayed behind in the devastated town of Lahaina has described the horror of seeing bodies in the sea and in the streets.
Commercial fisherman Bryan Sizemore, 48, said by phone early Thursday that he saw "at least a dozen corpses" when he went into the town Wednesday. He flagged police officers to the location of one body and later saw it being recovered from the street.
"The town is completely gone," he said. "Power lines are down. You'll see whole neighborhood burned out, but then there'll be one or two houses still standing, barely dirty," he said.
Sizemore has stayed in Lahaina to protect his store from looters, but there's no running water or electricity and food is scarce, he said. He's surviving on snack bars and a case of bottled water given by friends.
"I never thought I'd see nothing like this. You know when you watch movies, it's a possibility, but not in real life," he said.
Hawaii state health authority to offer mental health services to survivors
Survivors of the fires that have devastated Maui will be offered mental health services, including counseling, Green's office said late Thursday.
The Maui Community Mental Health Center will provide "crisis mental health services and expanding hours to those experiencing emotional or psychological distress as a result of the Maui wildfires," the statement said.
The services include mental health counseling, trauma processing, psychiatric services and resource guidance.
Anyone seeking these services should contact Maui CMHC at (808) 984-2150 or via email at mauiwellness@doh.hawaii.gov, or in person at 121 Mahalani Street in Wailuku.
Rock legend and Maui resident Mick Fleetwood's Lahaina restaurant destroyed
A restaurant on the Lahaina seafront belonging to Fleetwood Mac drummer and founding member Mick Fleetwood was completely destroyed by wildfire, he said Thursday.
"MAUI and The Lahaina community have been my home for several decades. This is a devastating moment for MAUl and many are suffering unimaginable loss," Fleetwood wrote on Instagram.
"On behalf of myself and my family I share my heartfelt thoughts and prayers for the people of MAUI. We are committed to supporting the community and those affected by this disaster in the days month and years to come."
Green: Maui fires are likely the worst natural disaster ever in Hawaii
"What we saw today was likely the largest natural disaster in Hawaii state history," Green said in a statement late Thursday.
"It's going to take a great deal of time to recover from this, but we have the support from every level of government all the way up to the federal level, especially given President Biden's approval of my disaster declaration request today. It will be a tremendous effort, but we will come together as a community and begin working toward rebuilding from this tragedy."
Almost 11,000 customers without power in West Maui
Nearly 11,000 customers in the worst-affected western Maui remain without power, a live map of outages by electricity provider Hawaiian Electric shows.
Earlier Thursday, the company said access continues to be limited to many impacted areas because of safety and emergency response concerns, and power restoration will be prioritized to areas that the crews can safely access.
The company also said that it's asking customers in the area to prepare for extended outages that could last several weeks.
Smoldering ruins of Lahaina as seen from the air
Aerial images taken Thursday show destroyed homes and buildings burned to the ground in Lahaina along the Pacific Ocean in the aftermath of wildfires in western Maui.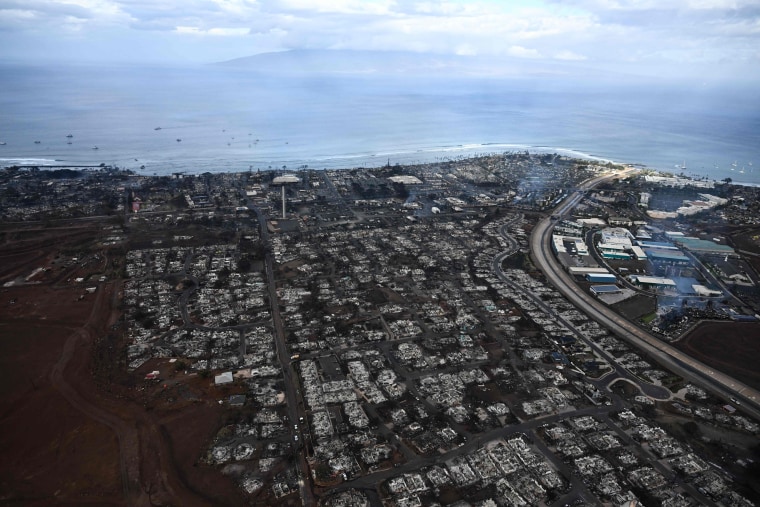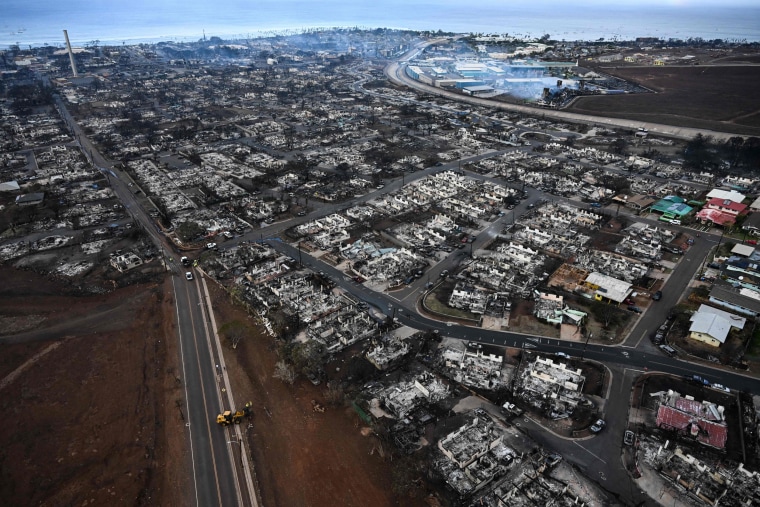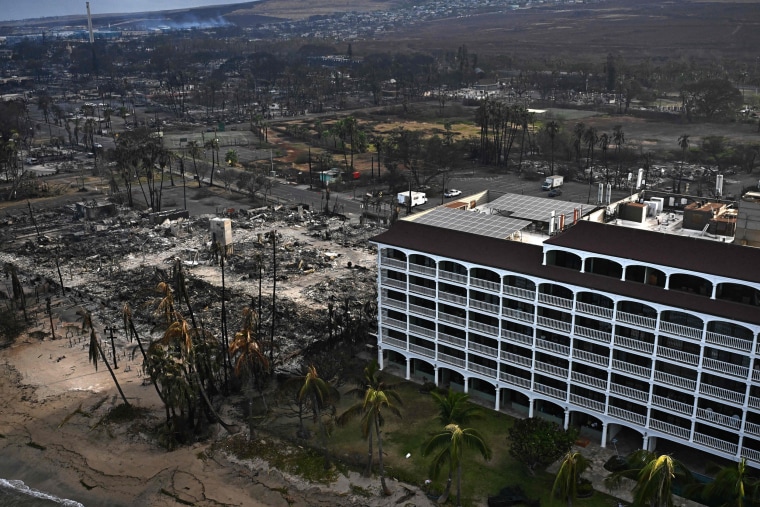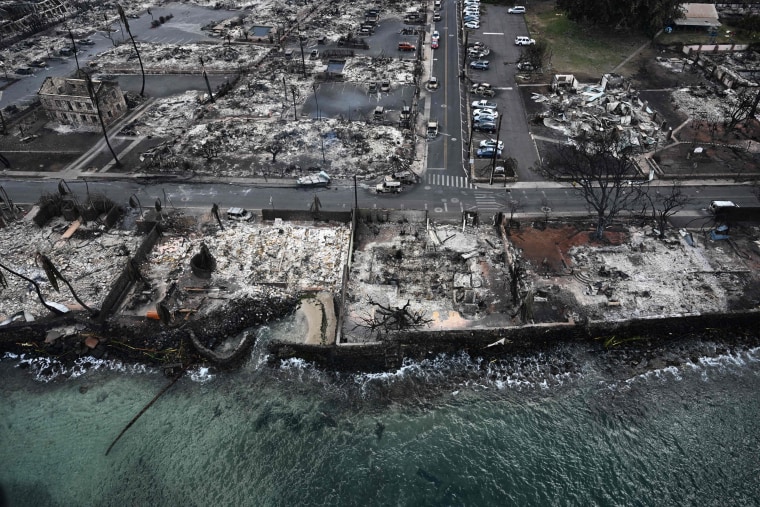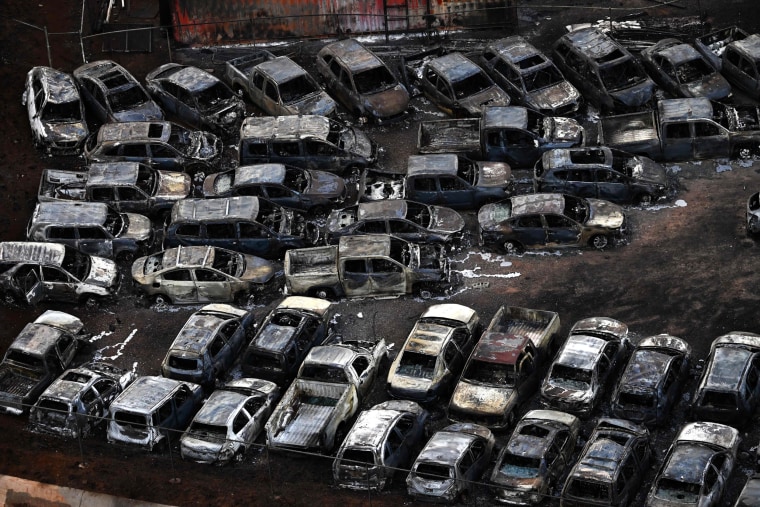 Lt. Gov. Sylvia Luke calls for donations for survivors
The thousands of survivors displaced by the Maui wildfires need support and donations, Lt. Gov. Sylvia Luke said late Thursday. She posted links to the local branch of the Red Cross, as well as other local charities and a food bank on X, the site formerly known as Twitter.
Emergency loan program announced for Maui, Hawaii Island farmers
Maui and Hawaii Island farmers who suffered damage in the wildfires this week will be able to use an emergency agricultural loan program announced by the state Agriculture Department on Thursday.
The farmers and ranchers are encouraged to apply now if they believe they will need financial assistance, the Hawaii Board of Agriculture said, as damage estimates may take some time to fully assess.
Oprah Winfrey visits evacuees in Maui
Talk show host and media mogul Oprah Winfrey visited wildfire evacuees in Maui on Thursday. Winfrey is a high-profile part-time resident and landowner on the island.
The celebrity's spokesperson confirmed that she went to a local shelter to ask what was most needed. She then went to Walmart and Costco to shop for the items and brought them back, the spokesperson said.
Winfrey plans to do more for the devastated island, as it becomes clear what funds can be the most helpful for the short-term and long-term rebuilding, the spokesperson added, calling the wildfires "heart-breaking devastation."
Death toll rises to at least 55
The number of people confirmed to have died in the devastating Maui fire is now 55, local officials said early Friday.
"As firefighting efforts continue, 2