Russia reports 6,760 new infections, pushing its nationwide tally to 661,165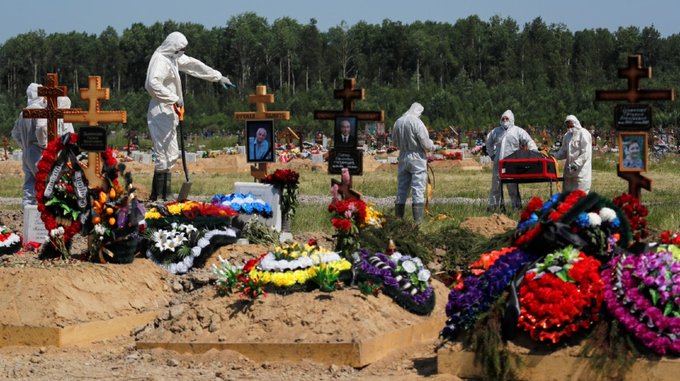 New United States coronavirus cases rose by nearly 50,000, according to a Reuters tally, marking the biggest one-day spike since the start of the pandemic. More than half of new cases each day come from US states of Arizona, California, Florida and Texas, home to 30 percent of the country's population. More than 128,000 people have died in the US due to the pandemic.
The United Nations Security Council has unanimously adopted a resolution demanding an "immediate cessation of hostilities" for at least 90 days in key conflicts including Syria, Yemen, Libya, South Sudan and Congo to tackle the coronavirus pandemic.
New Zealand's health minister, David Clark, resigned on Thursday, following recent slip-ups in the government's response to the COVID-19 pandemic and personal mistakes.
Italy's hard-hit northern region of Lombardy accounted for considerably more than half of the nation's latest confirmed 187 coronavirus cases - raising the total to 240,760 nationwide. The Health Ministry also reported 21 new deaths, raising to 34,788 the total of known deaths.
Close to 10.7 million people around the world have been diagnosed with the coronavirus, over 5.6 million have recovered, and more than 516,000 have died, according to Johns Hopkins University.
Here are the latest updates.
Thursday, July 2
10:44 GMT - England plans to reopen schools
UK Secretary of State for Education Gavin Williamson unveiled his plan to reopen schools in September to all pupils.
Among other measures, students will be divided into separate groups, known as "bubbles", to limit contacts and to better isolate new infections. Schools should consider asking pupils in different bubbles to follow separate start and finish times but break times and free periods may be cut to ensure this does not reduce teaching time.
At present, only some students in certain year groups and the children of key workers are at school.
10:28 GMT - Israel reports highest daily rise
Israel recorded 966 new cases, the highest single-day spike since the virus was first detected on February 21.
As the number of active cases surged to 8,647 in recent days, after it dropped below 2,000 last month, the country's Health Minister Yuli Edelstein said last week that the country was experiencing a second wave of the pandemic and that he would have imposed new restricting measures.
So far, the country registered 26,452 infections, including 324 deaths.
10:00 GMT - Saudi Arabia extends economic aid
In an effort to cushion the economic impact of the pandemic, Saudi Arabia extended for an additional period several government initiatives to support the private sector and investors.
The news was reported by state news agency SPA, citing a decision by King Salman.
09:36 GMT - China urges to ramp up testing capacity
China's local governments and medical institutes should ramp up and reserve coronavirus testing capacity in preparation for increased demand amid potential outbreaks,
the National Health Commision said in a guideline on its website.
Nucleic acid test results should be delivered within six hours for patients at fever clinics and within a day for those who volunteer to be tested, according to the guideline.
09:07 GMT - Indonesia reports record daily jump
With 1,624 cases in the past 24 hours, Indonesia reported its biggest jump in daily infections, said health ministry official Achmad Yurianto.
This brings the total number of cases to 59,394. The country also reported 53 new deaths, taking the cumulative death toll to 2,987.
08:40 GMT - Non-COVID-19 related deaths spike in Indian city
A spike in non-coronavirus related deaths in the Indian city of Ahmedabad highlighted the impact of the pandemic on general healthcare, doctors warn.
The rise in the number of fatalities in the most populous city in western Gujarat state, is due to patients with serious illnesses either not able to go to hospitals or being afraid to visit them because of the virus, doctors said.
Data collected from twenty-four Hindu crematoriums and four of the largest Muslim graveyards in the city shows that there have been 3,558 deaths in April and 7,150 in May. During the same months the previous year, the number of reported fatalities were, respectively, 2,784 and 2,706.
The numbers contain "ominous signals" for the rest of the country, doctor Rajib Dasgupta, a professor of community health at New Delhi's Jawaharlal Nehru University, told Reuters.
08:21 GMT - Emirates airline says issued over $517m in refunds
Emirates, one of the world's biggest long-haul airlines, has processed close to 650,000 refunds over the past two months, refunding over 1.9 billion dirhams ($517 million).
The Dubai-based carrier is operating a limited number of flights on a reduced network after the coronavirus pandemic brought global aviation to a near halt this year.
Emirates expects to process more than 500,000 refunds in the next two months, Chief Commercial Officer Adnan Kazim said in a statement.
08:05 GMT - Britain's Boohoo responds to damning reports
Britain's Boohoo defended its supply chain practices after it came under fire for allegedly putting workers at risk of infection in its Leicester factories.
"The boohoo group will not tolerate any incidence of non-compliance especially in relation to the treatment of workers within our supply chain and we have terminated relationships with suppliers where evidence of this is found," Boohoo said, adding it would investigate the allegations and take any necessary action.
The accusations to the online fashion retailer were gathered by the workers' rights group Labour Behind the Label which said it received reports of employees being forced to come into work while sick with COVID-19 and factories operating illegally throughout lockdown.
07:46 GMT - In change of tone, Trump says he's 'all for masks'
After long resisting wearing a face mask in public during the coronavirus pandemic, US President Donald Trump has now struck a different tone, saying he is in favour of the protective covering.
"I'm all for masks. I think masks are good," Trump told Fox Business in an interview on Wednesday. His comments were made after
politicians from his party suggested he wear a mask in public to set a good example as the number of daily coronavirus cases in the United States
exceeded 50,000.
Follow us on twitter (ajuede.com) or on Instagram (ajuedeman) for details of the global situation presently.