The Fiver | Mourinho and the golden value of a top-quality retriever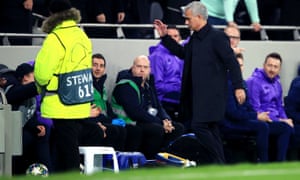 THE CONTINUING ADVENTURES OF HUMILITY MAN™
The Fiver prefers Robertson's lug-cuff, which in comedic terms could only have been improved had the Liverpool full-back been wielding an oversize frying pan. Messi's affronted coupon! But at the time, out-of-proper-work pundit José Mourinho thought otherwise, and on BT Sport was effusive in his praise of the ballboy's brisk intervention. "The kid is very intelligent, very bright, he knew what Alexander-Arnold was going to do," he cooed. "In a good structure, ballboys can play a part. I had a club where [they] never understood how important the ballboys are." Which one's he having a pop at there, do you think? It could be any or all of them, couldn't it.
LIVE ON BIG WEBSITE
QUOTE OF THE DAY
RECOMMENDED VOTING
FIVER LETTERS
"Imagine how excited the players at the Southeast Asian Games must have been to have heard that their plight was being reported in the European football press … only to discover it was just the lead story in yesterday's Fiver. Say what you want about Philippines president Rodrigo Duterte, he sure knows how to bury bad news when he needs to" – Justin Kavanagh.
"Fascinated by Noble Francis' information on 1996 transfers (yesterday's Fiver letters), I obviously threw myself into the period and read it while listening to Everything Must Go, wearing Adidas Poppers, and drinking Hooch. The main thing I took away from it is that Alan Shearer was roughly 4.7 times better than Zinedine Zidane. The numbers don't lie. Flip, I miss the 90s" – Matt Dony.
"Hi Fiver, you may remember we ventured into a business agreement together, based around a dating app for five-o'clock-football-email-fan-romantics – Finder – with a 70/30% split arrangement (Fiver letters-definitely-not-agreements passim). Unfortunately, the project has not been as successful as I hoped, and I have incurred significant losses. Therefore, I must regrettably inform you that you now owe me £1,452 (30% of total losses). I am, however, willing to accept a copy of An A to Z of Football Collectibles in full, complete and final settlement of all existing claims and causes of action. Alternatively, some office bric-a-brac would also be fine – stapler, tape holder, that sort of thing. Yours in sport and love" – Jacklin O'Riordan.
BITS AND BOBS
Club Brugge are probably still partying, despite having two players – including goalscorer Krépin Diatta – sent off for second bookings during their celebrations of an injury-time equaliser in the 1-1 Big Cup draw at Galatasaray. "It was an excess of euphoria," cheered Diatta.
And Zlatan Ibrahimovic is now a part-owner of Hammarby, which is apparently why his statue outside Malmö's ground has been defaced with a toilet seat.
STILL WANT MORE?