TRUMP ASKED NIGERIA'S BUHARI — WHY ARE YOU KILLING CHRISTIANS?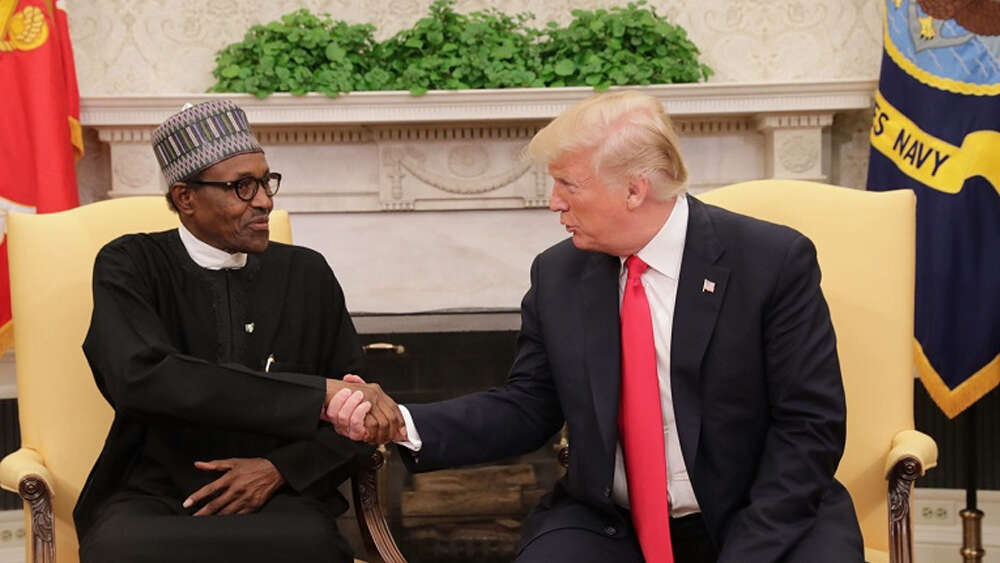 President Donald Trump asked the President of Nigeria to explain his nation's indifference to the plight of persecuted Christians, Nigerian leader Muhammadu Buhari told reporters this week.
Speaking in Abuja on 8 September 2020 at the First Year Ministerial Performance Review Retreat of his second term, President Buhari said that during his visit to the White House in April 2018 President Trump privately asked why he was killing Christians.
"When I was in his office, only myself and himself, only God is my witness, he looked at me in the face, he asked, 'why are you killing Christians?'"
President Buhari said he was nonplussed by the question, the Punch newspaper reported. "I wonder, if you were the person, how you will react? I hope what I was feeling inside did not betray my emotion, so I told him that the problem between the cattle rearers and stagnant farmers …".
At a June press call sponsored by the Washington-based NGO In Defense of Christians former US Congressman Frank Wolf called the campaign against Christians in Nigeria's Middle Belt a deliberate "genocide". Nigeria was becoming the "biggest killing ground of Christians in the world."
43,242 Christians were killed by Boko Haram, Islamic State and Al Qaeda; 18,834 died in Fulani attacks and 34,233 from other armed groups
A report issued last month by the International Organization for Peace Building and Social Justice, the International Committee on Nigeria and the All-Party Parliamentary Group for International Freedom of Religion or Belief stated Boko Haram, Al Qaeda, Fulani herdsmen and other Islamist groups are responsible for the deaths of more than 96,000 Christians in 21,000 separate attacks.
They found that 43,242 Christians were killed by Boko Haram, Islamic State and Al Qaeda; 18,834 died in Fulani attacks and 34,233 from other armed groups.
Archbishop Benjamin Kwashi of Jos, the general-secretary of GAFCON (a conservative network of Anglicans) said in the June press call the killings were "systematic; it is planned; it is calculated."
The archbishop said Boko Haram's aim was to drive Christians out of the North and the Middle Belt and to "Islamize Nigeria."
However, the government of President Buhari was ignoring the problem, Archbishop Kwashi said.
"Every time we have raised our voices to say to the governments that this is going on, they always produced a political narrative to say that it is farmers' and herders' clashes. That narrative is an evil narrative of cover up because honest people will be sleeping in their homes at night that will be massacred, but it will be said to be a clash. That is far from the truth," the archbishopi said. "These killings are specifically in Christian villages."
President Buhari on Tuesday denied there was any deliberate campaign of murder or religious cleansing of the the North. The problem was climate change.
"With climate change and population growth and the culture of the cattle rearers, if you have 50 cows and they eat grass, any root, to your water point, then they will follow it. It doesn't matter whose farm it is."
"The First Republic set of leadership was the most responsible leadership we ever had. I asked the Minister of Agriculture to get a gazette of the early 60s which delineated the cattle route where they used meagre resources then to put earth dams, windmills and even sanitary departments."
"So, any cattle rearer that allowed his cattle to go to somebody's farm would be arrested, taken before the court. The farmer would be called to submit his bill and if he couldn't pay, the cattle would be sold, but subsequent leaders, the (very very important persons) encroached on the cattle routes. They took over the cattle rearing areas."
"So, I tried and explained to (President Trump) that this has got nothing to do with ethnicity or religion. It is a cultural thing."
George Conger, Parish priest, journalist, and essayist, writes for Anglican.ink and the vodcast Anglican Unscripted. Used with permission.
Follow us on twitter (ajuede.com) or on Instagram (ajuedeman) for details of the global situation presently.