Emefiele says it's important for Nigeria to leapfrog into the cashless economy.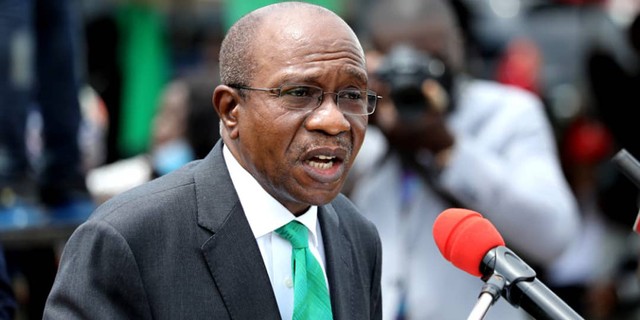 Godwin Emefiele, Governor of the Central Bank of Nigeria has insisted that the CBN would not reverse its decision on the ongoing implementation of cashless policy.
The new monetary policy restricts over-the-counter cash withdrawal by individuals and organisations to N100,000 and N500,000, respectively, per week.
The policy also limits cash withdrawals via point-of-sale machines and automated teller machines to N20,000 daily and N100,000 weekly, respectively.
Reacting to this, on Thursday, December 8, 2022, the House of Representatives during its plenary asked the CBN Governor to appear before it next week Thursday to explain the significance of the policy on withdrawal limits.
The lawmakers also asked Emefiele to suspend the implementation of the policy pending the outcome of the expected engagement on compliance with relevant sections of the CBN act and the 1999 constitution on the monetary policies of the apex bank.
Speaking with journalists on Thursday after briefing President Muhammadu Buhari on the development in Daura, Katsina State, Emefiele said a lot of electronic channels designed for the policy had been put in place since 2012 when the cashless policy was introduced.
He said the policy was stepped down on a number of occasions to fully prepare for its implementation and deepen the payment system infrastructure in Nigeria.
Emefiele said he visited the president to assure him that all plans on the currency and cashless policy were "going on well".
Asked about what the CBN would do if the lawmakers kick against the policy, the Governor of the apex bank said the CBN would brief the lawmakers about the policy, adding that Nigeria needed to leapfrog into the cashless economy.