Ron DeSantis speech to new Hampshire Republicans momentarily interrupted by protesters
MANCHESTER, N.H. – Gov. Ron DeSantis of Florida's address to the New Hampshire GOP's annual fundraising dinner on Friday was momentarily interrupted a couple of minutes into his speech by two female protesters.
The demonstrators, who appeared to chant "Jews Against DeSantis" made their way all the way to the podium at the sold-out event at a hotel ballroom in downtown Manchester, New Hampshire's largest city, before they were quickly removed by security.
DeSantis, remaking on the incident, told the audience to cheers and applause that "you've got to have a little spice in the speech. Right. I mean you've gotta have a litte fun," before quickly returning to his prepared remarks.
All guests attending the event, which is the state party's top annual fundraiser, had to pass through a security sweep before entering the ballroom.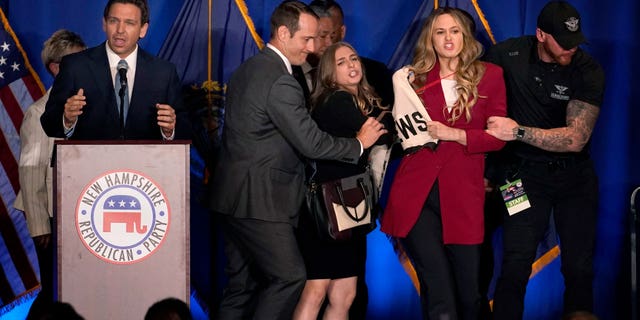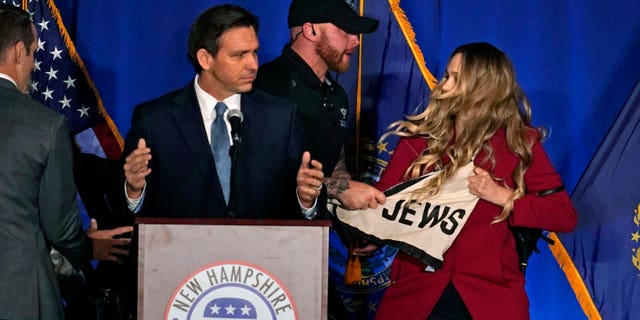 New Hampshire state party chairman Chris Ager told Fox News earlier on Friday that the fundraising dinner would bring in over $250,000, which Ager said is a "record." And he noted that over 500 people would be in the audience, adding that "we had to close ticket sales earlier this week at 520 people."
The trip is DeSantis' first this cycle to New Hampshire, the state that holds the first primary and second contest overall in the GOP presidential nominating calendar. The popular conservative governor from Florida has already stopped this year in Iowa (which holds caucuses kicking off the Republican schedule) and Nevada (which holds the fourth contest) and next week visits South Carolina (which votes third).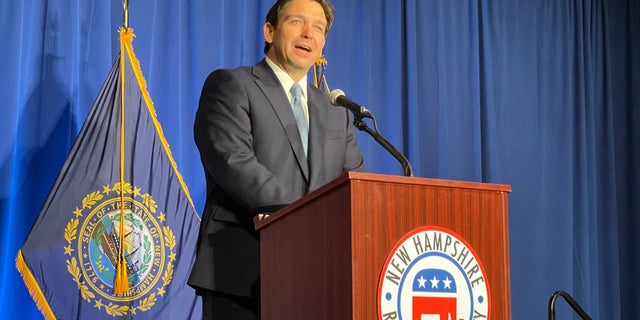 While DeSantis remains on the 2024 sidelines, he's expected to launch a presidential campaignsometime after the end of Florida's legislative session, which concludes next month. But behind the scenes, he's already made plenty of moves toward launching a campaign, including beefing up staff in Tallahassee.
The governor didn't mention his expected presidential campaign in his speech, other than to repeat his often used line that "I have only begun to fight."
Florida's governor, a former congressman, saw his popularity soar among conservatives across the country the past three years due to his forceful pushback against coronavirus pandemic restrictions and his aggressive actions as a conservative culture warrior going after media, corporations and teachers unions, touted his results in the Sunshine State during his speech.
"We're leading the nation on a whole host of issues. We're number one in the country.. for net-in migration… we're number one in new business formations, one number in tourism. We're number one in economic freedom… we're number one in education freedom. We're number one in parental involvement in education," DeSantis touted. "We lead not merely with words but with deeds."
And in a comment that elicited a very loud applause from the audience, the governor spotlighted his controversial push to ban classroom instruction on sexual orientation and gender identity in Florida, asking "is wrong to tell a second-grader that they were born in the wrong body."
Most public opinion polls in the burgeoning GOP presidential nomination race indicate DeSantis in second place, trailing only former President Donald Trump, with everyone else in field of actual and potential contenders in single digits.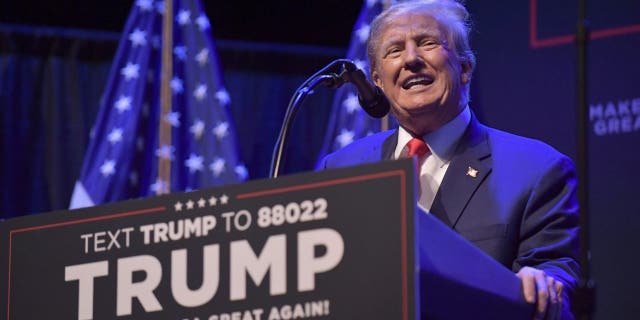 Trump, who launched his third White House bid in November, has for months repeatedly targeted DeSantis. And on Friday the pro-Trump super PAC MAGA Inc. fired up a second straight attack ad taking aim at the Florida governor.
DeSantis, who won re-election last year in a sweeping 19-point victory, didn't mention Trump in his speech. But he appeared to verbally swipe at the former president, who's been criticized for contributing to the GOP's less than stellar overall performance in last year's elections.
"There is no substitute for victory. Republicans need to the shake the culture of losing that has developed throughout our party in recent years. The time for excuses is over. We must get it done once and for all," DeSantis said to applause.
And DeSantis argued "here's the strange truth if the 2024 election is a referendum on Joe Biden and his failed polices and if we provide a fresh vision for American's renewal, Republicans will win the White House, the House and the U.S. Senate. So we cannot get distracted, and we cannot afford to lose because freedom in hanging in the balance."
The trip comes during a busy few days for DeSantis. The Florida governor headlined two Republican Party functions in Ohio on Thursday. And on Friday, before heading to New Hampshire, he was in Lynchburg, Virginia, where he gave the keynote address at Liberty University's convocation ceremonies.
On Thursday night, after he returned to Florida following his stops in Ohio, the governor signed into law a bill that would ban most abortions in the Sunshine State after six weeks.
But DeSantis made no mention of the new law, which has been heavily criticized by Democrats, at either his speeches in Virginia or New Hampshire on Friday.
New Hampshire Democratic Party spokesperson Aida Ross charged that "of course Ron DeSantis would try to hide his anti-choice agenda from Granite Staters after he signed his extreme ban behind closed doors and in the dark of night" and accused the governor of trying to "out-MAGA the field."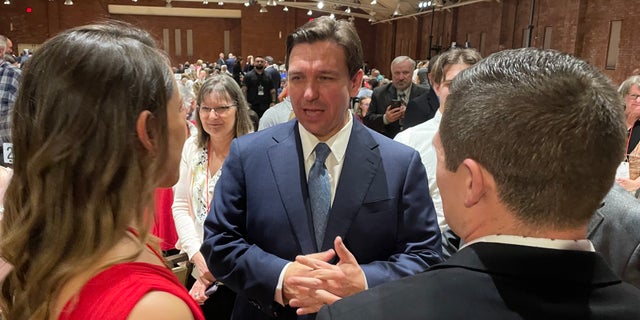 DeSantis, who has been criticized for not excelling at the art of candidate-to-voter interactions and retail style politics, which are traditions in Iowa and New Hampshire, spent roughly an hour after his speech walking the ballroom and greeting the crowd. It was a repeat performance of his interactions with Republicans during his two stops last month in Iowa.
"Look around this room, there's a great deal of excitement here. There really is," Republican National Committee member from New Hampshire Bill O'Brien, a former state House speaker, told Fox News."
Greg Moore, a veteran New Hampshire conservative activist and state director for Americans for Prosperity, noted that DeSantis "has a fantastic track record in Florida and I think that's what made a lot of people attracted to him early on. But like every candidate who's thinking about running for president, you have to come to New Hampshire and start from zero."
DeSantis met privately with Granite State GOP activists and leaders ahead of Friday night's dinner and was expected to hold more meetings on Saturday, according to Republican sources in New Hampshire.
The New Hampshire fundraising dinner is named after Amos Tuck, who is considered by many to have founded the Republican Party in the 1850s in Exeter, New Hampshire. Exeter, along with Ripon, Wisconsin, and Jackson, Michigan, claim to be the birthplace of the GOP.