Ukraine: violent clashes as locals hurl stones at coronavirus evacuees' bus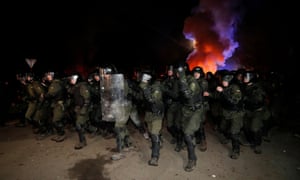 Ukraine's effort to quarantine more than 70 people evacuated from China over the new
virus outbreak
was plunged into chaos on Thursday as local residents hurled stones at buses carrying the evacuees and engaged in violent clashes with police.
The vehicles were finally able to reach the designated place of quarantine after hours of clashes. The masked evacuees, exhausted by the long journey, peeked through shattered bus windows as they drove slowly under heavy police escort.
Since the early morning, several hundred residents of the village of Novi Sanzhary in Ukraine's central Poltava region had barricaded the road to a sanitarium intended to host the evacuees, fearing that they could become infected.
Demonstrators, some of whom appeared drunk, put up road blocks, burned tyres and clashed with hundreds of riot police who moved to restore access. One protester tried to ram police lines with his car.
The Ukrainian authorities say all passengers on board had been screened twice for the virus before being allowed to fly, but that was not enough to pacify the protesters.
"Isn't there any other place in
Ukraine
that can host 50 people, that is located in more or less remote villages or in far-off areas where there is no threat to population?" queried resident Yuriy Dzyubenko.
One protester was heard suggesting they should be kept at Chernobyl, the site of the world's worst nuclear disaster in 1986. Another suggested taking them to parliament, while another said Zelenskiy, Ukraine's president, should house them himself if he really believed there was no danger.
"This is what I am telling him, telling the president: 'Take 10 people, then I will take two,'" a man called Yuriy, who did not give his last name, said.
Nine police and one civilian were hospitalised, regional police said in a statement.
More than 10 protesters were detained, and Ukraine's interior minister, Arsen Avakov, visited the site of the skirmishes to try to calm the crowd down. He urged the protesters "not to fall for provocations and be understanding of the necessity for these temporary measures".
"The situation is rather heated," Poltava's regional police spokesman Yuri Sulayev said.
President Volodymyr Zelenskiy also weighed in, saying the protests showed "not the best side of our character". In a statement on his Facebook page, Zelenskiy said the authorities had done everything possible to make sure the virus would not spread to Ukraine.
"But there is another danger that I would like to mention. The danger of forgetting that we are all human and we are all Ukrainian," he said.
Municipal legislators in the village vowed to continue opposing the evacuation, saying that the sanitarium's sewage system was linked to the one in the village and ends up in a nearby waste facility.
"We can't allow putting the health and life of local residents at risk, and demand that top officials take urgent moves to prevent people from China from being put here," they said in a statement.
Amid the clashes between local residents and police, Ukraine's prime minister, Oleksiy Honcharuk, said he would immediately fly to the site to oversee matters personally.
Those evacuated included nationals from Belarus, Kazakhstan, Argentina, Ecuador, Costa Rica, the Dominican Republic and Panama.
As 2020 begins…
… we're asking readers, like you, to make a new year contribution in support of the Guardian's open, independent journalism. This has been a turbulent decade across the world – protest, populism, mass migration and the escalating climate crisis. The Guardian has been in every corner of the globe, reporting with tenacity, rigour and authority on the most critical events of our lifetimes. At a time when factual information is both scarcer and more essential than ever, we believe that each of us deserves access to accurate reporting with integrity at its heart.
You've read 7 articles in the last four months. More people than ever before are reading and supporting our journalism, in more than 180 countries around the world. And this is only possible because we made a different choice: to keep our reporting open for all, regardless of where they live or what they can afford to pay.
We have upheld our editorial independence in the face of the disintegration of traditional media – with social platforms giving rise to misinformation, the seemingly unstoppable rise of big tech and independent voices being squashed by commercial ownership. The Guardian's independence means we can set our own agenda and voice our own opinions. Our journalism is free from commercial and political bias – never influenced by billionaire owners or shareholders. This makes us different. It means we can challenge the powerful without fear and give a voice to those less heard.
None of this would have been attainable without our readers' generosity – your financial support has meant we can keep investigating, disentangling and interrogating. It has protected our independence, which has never been so critical. We are so grateful.
As we enter a new decade, we need your support so we can keep delivering quality journalism that's open and independent. And that is here for the long term. Every reader contribution, however big or small, is so valuable.