Kendall Jenner goes braless under sheer black dress at Lori Harvey's star-studded birthday party
Kendall Jenner left little to the imagination when she stepped out for Lori Harvey's star-studded 26th birthday party in Los Angeles on Friday night.
The 27-year-old model went braless under a semi-sheer, black one-shoulder Ludovic de Saint Sernin maxi dress while attending the bash at the Fleur Room Lounge in West Hollywood.
The "Keeping Up With The Kardashians" alum's gauzy, fitted dress featured an asymmetrical choker-style top section that boasted a large faux red lily.
Jenner sported strappy black heels and carried a black clutch. She accessorized with large gold earrings and wore black nail polish.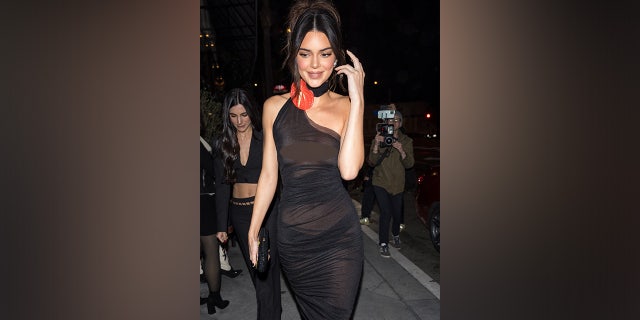 "The Kardashians" star's hair was styled in an updo with several loose strands framing her face.
Jenner was joined at the party by her close friends Justin and Hailey Bieber, with whom she recently rang in the New Year in Aspen, Colorado. Other guests included Lizzo, Tiffany Haddish, Lil Nas X, Tyga, Kiernan Shipka, Chantel Jeffries and Cher's boyfriend Alexander "AE" Edwards.
It was not the first time that the model had donned a nipple-baring look. During an interview for Vogue's "Life in Looks" series last September, Jenner opened up about going braless while walking the runway during her first fashion show in 2014.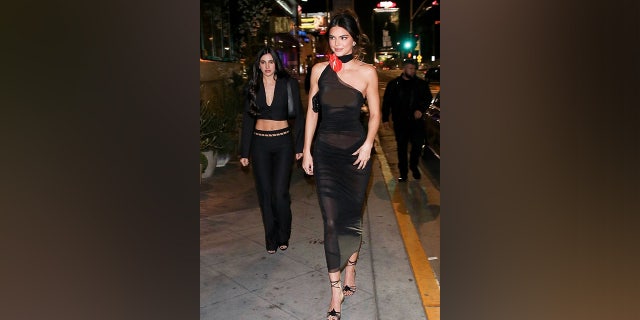 The 818 Tequila founder walked in the Marc Jacobs fashion show during the Mercedes-Benz Fashion Week wearing a brown, nipple-showing, v-neck long sleeve sweater and khaki pants.
"This was actually my first high-end fashion show, and it was for Marc Jacobs," Jenner explained to the outlet. "I actually could not believe that I was there. Weirdly had little nerves and I think it was because my shoes were relatively flat they weren't some big tall heel. I was pretty chill even though my boobies were out," Jenner said.
Jenner also talked about going into her agency for walking lessons leading up to the show as it was her first one.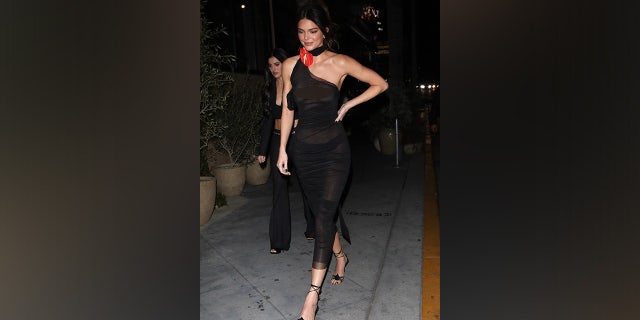 "I remember going into my agency and kind of getting like a walking lesson because I didn't necessarily know what I was doing. I think I took tips too seriously and ended up being really stiff when I got on the runway. I've learned a lot since then," she explained.
Jenner also talked about how she wasn't very nervous about walking the runway with her revealing outfit.
"I remember getting a call from my agent saying that Marc and Katie wanted to put me in this kind of sheer top and I was like 'I'm game, like I don't mind. I'm all good with the nipple.' It didn't make me any more nervous," the model recalled.