General election: Trump claims even if NHS 'handed on silver platter' in trade deal, US doesn't want it –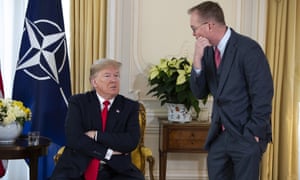 Q: You have the lowest popularity ratings for a leader since records began. Does that worry you?
Corbyn says he does not comment on polls. He will not start now.
This is not just about him, he says.
He says he has a lot of highly motivated candidates who want to win the election.
The interview is over. Vine says they asked if there was a record Corbyn wanted to play. He says he was told Get Ready, by The Temptations.
Corbyn says he would be an "honest broker" in a second referendum campaign.
Q: What happens if your team negotiates a fantastic Brexit deal, and you can hardly contain your excitement?
Corbyn says he can contain his excitement in all circumstances.
Q: But what happens if it is so good that you should campaign for it?
Corbyn says he wants the public to take the decision.
Q: In your heart of hearts you are a Brexiter, aren't you?
Corbyn says he has been accused of many things. He wants a prosperous economy, and for the people to make the final decision
Q: The IFS says it is unlikely Labour will be able to raise the sums it needs from its plans plan.
Corbyn says that is what the IFS says. He says Labour thinks it can raise the money to be had. There is a debate to be had about this, he says. He says the Labour party has spoken to the IFS about this.
Q: And, after the manifesto came out, you announced plans to spend £58bn compensating the Waspi women. Where does that money come from?
Corbyn says Labour would use the "headroom" available.
Is it right to break a contract with these women, he asks. He says these women paid into the system expecting a pension.
Q: Shouldn't Labour have pointed out in the 1990s what the government was doing on this?
Corbyn says Labour has said it will address this, and it will.
Jeremy Corbyn now getting a real grilling on his views on Nato... tells

@

theJeremyVine

Nato was part of a "tit for tat" against the Warsaw Pact and "led to a deepening of the Cold War."
See Kate Ferguson's other Tweets
Jeremy Corbyn's interview on Radio 2's Jeremy Vine Show
'They may not like me' - Trump admits his endorsement may not be helpful in UK