Trump Impeachment: Joe Biden Refuses To Testify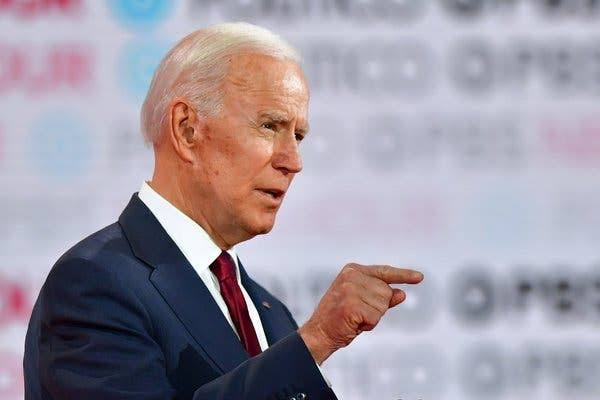 Returning to the campaign trail after Christmas, former vice president Joe Biden stood by his comments that he would not comply with a subpoena to testify at Donald Trump's impeachment trial in the US Senate.
In a meeting on Friday with the editorial board of The Des Moines Register, whose endorsement in the Iowa caucuses is coveted by presidential hopefuls, Mr Biden argued that complying with a subpoena and testifying would essentially allow the president to succeed in shifting attention onto Mr Biden and away from the president's own actions.
"The reason I wouldn't is because it's all designed to deal with Trump doing what he's done his whole life: Trying to take the focus off him," Mr Biden told the newspaper.
"The issue is not what I did."
"This is all about a diversion," he added. "And we play his game all the time. He's done it his whole career."
The former vice president met with The Register at the beginning of a two-day visit to Iowa.
He boarded his "No Malarkey" campaign bus later on Friday and headed to Williamsburg for an event there.
Afterward, he stopped by a party at the home of the mayor of Coralville to watch Iowa play Southern California in the Holiday Bowl.
Mr Biden had previously said he would not comply with a subpoena to testify at the impeachment trial.
Asked on Friday about that stance, he said: "The grounds for them to call me would be overwhelmingly specious. But, so, I don't anticipate that happening anyway."
Mr Biden raised the scenario of voluntarily appearing at the Senate trial and explained why he did not view that as a good idea.
"What are you going to cover?" he asked, referring to the media. "You're going to cover, for three weeks, anything I said. And he's going to get away."
The house impeached Mr Trump last week for abusing his power and obstructing congress in connection with a campaign to pressure Ukraine to investigate his political rivals, including Mr Biden and his son Hunter Biden.
Since then, speaker Nancy Pelosi of California has been in a standoff with senator Mitch McConnell of Kentucky, the majority leader, over whether Democrats will be able to call Trump administration witnesses at a senate trial.