Covid-19 Fund: N20,000 for Northerners, N5000 for fewer Yoruba...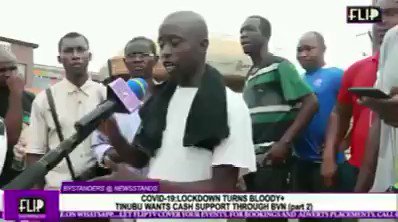 See video down page
When many Nigerians protest and complain they are not taken care of by the leaders of the country as Nigerians, I wonder if they have problem with their understanding or that they want to be really ostensible.
The logic is simple and you should get it into your heard. The Europeans that civilized Nigeria handed the country over to them. Therefore, you are a Yoruba, Igbo, Edo, Niger Delta, Tiv etc., not a Nigerian.
Those who are Nigerians get what they wanted at the very point of the request. You are not one. You are Baboons and Dogs; and your country is a zoo. Do you doubt?
Read also,
The Real Buhari on ajuede.com
When Ken Sarowiwa was assassinated, the BBC news had it that an Ogoni activist has died; not a Nigerian activist.
When Abiola was murdered, the same BBC news had it that a Yoruba politician has died.
When they they wanted to kill Nnamdi Kanu, look at what Dambazzau told the world:
As the Shoemakers on your street if the covik-1-9 relief fund has been shared, you will be shocked at his reply:
"Haba! You have not collected your own? i have collected my N20,000 since."
This will tell you that you are not a Nigerian; you belong to the Zoo. And as one baboon who would want to behave like his Fulani herder-master, your corvix-1-9 relief fund will come your way via your loading of MTN card. When you load N100, your herder-master will convert it to N500 automatically.
Better still, if you are a Yoruba, because of the loyalty of Tinubu and Osibanjo, you may do well to empty your account; then your herder-master will compensate you with N5000.
Listen to the video:
Follow us on twitter (ajuede.com) or on Instagram (ajuedeman) for details of the global situation presently.