COVID-19: All you need to know about Europe's second wave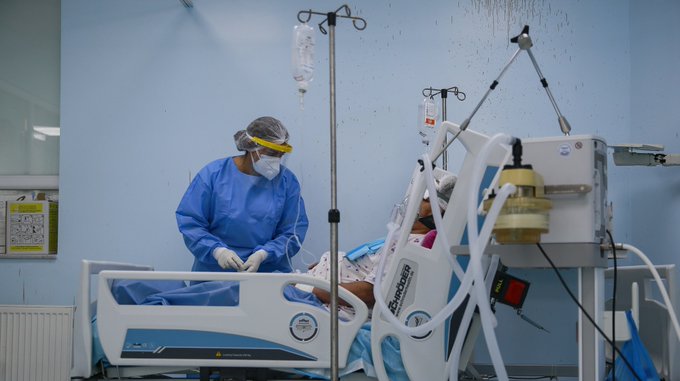 Why are cases rising?
As coronavirus infection rates rise across Europe again, experts are concerned another major outbreak, or so-called second wave, is around the corner.
The rise comes after a period of unprecedented lockdown during the first wave, which helped reduce cases and the death rate across the continent.
Linda Bauld, behavioural scientist and professor of public health at the University of Edinburgh, said the relaxing of lockdown measures across Europe has contributed to the spike.
"Because the virus was not eliminated from Europe - it was suppressed - when you release lockdown, the virus spreads. The message then from governments was: "Go out and access the economy, access hospitality, see your loved ones."
"There are certain age groups that did that with great gusto ... Clearly younger adults, people with good mobility and extensive social networks, took advantage of it. And the governments told them to do that."
There is also a greater rate of testing, which results in higher figures, but the argument that those figures are inflated by the increased testing is flawed. This is because a rising proportion of tests are returning positive results.
Where are infections increasing?
The European Centre for Disease Prevention and Control said on Monday that Spain had 300 cases of COVID-19 per 100,000, the highest in Europe, followed by the Czech Republic, France, Luxembourg, Malta, Belgium, Hungary, and Austria.
There is also concern about rising cases in the UK and France.
In Spain, parts of the capital Madrid, saw new lockdown measures enforced on Monday. More than 850,000 residents face restrictions on travel and the size of gatherings. On Tuesday, Spain reportedly requested the army's help to enforce some of the restrictions.
In the Czech Republic, in a televised debate on Sunday, former health minister Adam Vojtech who resigned on Monday as cases climbed above 50,000 said the government could declare a state of emergency if the infection rate continued to rise - a measure several European countries took at the height of the pandemic.
On September 12, French authorities reported 10,000 COVID-19 cases in one day for the first time since the pandemic began. Since then, daily cases have soared to more than 13,000. Several "red zones", cities considered high risk, have seen clampdowns. Gatherings of more than 10 people in public spaces have been banned in Nice, and similar measures were introduced in Bordeaux and Marseille on Monday.
There is much talk of a second national lockdown in the UK, which on Tuesday announced further restrictive measures aimed at containing another major outbreak, as the number of cases swells and top scientists warn that the death rate could grow exponentially. On Monday, the UK reported 4,368 new cases.
One of the UK's most senior health advisers, Sir Patrick Vallance, cautioned on Monday that cases could rise to 50,000 a day by October if further action was not taken. The last few days have seen the highest number of cases recorded since May.
There are several local lockdowns currently in place and the government has already announced renewed national restrictions, among them limiting gatherings to six people, and making pubs, restaurants and hospitality venues in England close by 10pm from Thursday.
Is a second wave imminent?
Prime Minister Boris Johnson declared on Friday that the UK "was now seeing a second wave", while other countries have expressed fears of a major outbreak in the winter.
Regional emergency director for Europe at the World Health Organization (WHO), Dr Dorit Nitzan said the situation unfolding in Europe was a "wake-up call."
"As of the week of September 7, the European region's weekly tally exceeded 300,000 cases," she told Al Jazeera.
"These numbers might reflect more comprehensive testing; at the same time, we are witnessing a relaxing of physical distancing measures, emergency fatigue, public gatherings, which have contributed to a resurgence in cases.
"Weekly cases have now exceeded those reported when the pandemic first peaked in Europe in March. More than half of European countries have reported over 10-percent increase in cases in the past three weeks."
What can be expected if coronavirus cases continue to rise?
"There won't be complete lockdown because I don't think we can afford that," said Professor Bauld. "But we can definitely expect restrictions being applied as we're seeing in Madrid and parts of France.
"I would anticipate we may see the 'circuit-breaker' lockdown devised in Singapore where you shut businesses and hospitality for a few weeks. We may also be advised not to travel, or to visit other households which is already the case for 13 million people around the UK with local restrictions in place. There may also be strong advice not to see our older relatives and to shield the elderly again."
While the WHO cannot predict what would happen, Dr Nitzan said if the virus continued to spread, it would reach the most vulnerable in society.
"We have learned, including through the tragic deaths among residents of long-term care facilities, that it is vital to protect those at higher risk of severe consequences," she said. "If we do not continue to detect and treat cases early, interrupt transmission, prevent wider community spread and protect all vulnerable groups, we might see more severe patients and deaths.
"As winter approaches, and other respiratory pathogens start to circulate, including seasonal influenza, we can expect increased risks to older people and people with chronic diseases at this time of year."
What more do we know about the virus now, in Europe?
Dr Nisreen Alwan, epidemiologist and associate professor of public health at the University of Southampton, said a lack of formal diagnosis of "long COVID", symptoms extending for weeks or months, presented a significant gap in the way the pandemic was being managed.
She experienced COVID-19 symptoms herself in late March. Months later, her symptoms persisted.
"What's been missed from the narrative by policymakers and politicians is COVID-19 morbidity, so not only counting the number of positive tests and deaths, but also the number of people who haven't recovered for several months," she told Al Jazeera.
In the UK alone, tens of thousands of healthy individuals of working age are reported to be suffering from post-viral fatigue, exhaustion, and other symptoms, a phenomenon that has also been reported elsewhere in Europe and the US.
Estimates such as those from the COVID-19 Symptoms app, an app used to study the symptoms of the disease, suggest one in 10 of those who contracted coronavirus in the UK have had symptoms for more than three weeks.
Reports of post-viral fatigue were also observed by experts in 2002, during the SARS outbreak.
"What people need now is recognition they've had 'long COVID', as well as the appropriate investigations, support and rehabilitation to rule out any underlying pathology conditions that can be treated," Dr Alwan added.
"The public health message needs to take into account that younger healthy people may not get back to their daily activity levels and experience ill health for several weeks or months as a result of COVID-19 infection."
Qatar Emir Sheikh Tamim bin Hamad Al Thani has questioned the credibility of the international community as it "stands by, unable to take any effective action to confront Israeli intransigence and its continued occupation of Palestinian and Arab land".
In his video speech at the 75th session of the United Nations General Assembly, the emir questioned the role of countries and organisations for failing to uphold the resolutions against the continued Israeli occupation of Palestinian territories and its expansion of settlement building.
He accused Israel of carrying out "flagrant violation of international resolutions and the two-state solution as agreed upon by the international community".
"The international community stands by, unable to take any effective action to confront Israeli intransigence, its continued occupation of Palestinian and Arab land, the imposition of a stifling siege on the Gaza Strip, [and] the expanding settlement policy, among others," he said.
"Peace can only be achieved when Israel fully commits to the international terms of reference and resolutions that are accepted by the Arab countries and upon which the Arab Peace Initiative is based."
The Arab Peace Initiative was a plan put forth by Saudi Arabia in 2002 that called for normalising relations with Israel in exchange for an end to its occupation of Palestinian territories, the establishment of a Palestinian state based on the 1967 borders and with East Jerusalem as its capital, as well as a just solution for Palestinian refugees.
Qatar's ruler said Israel is trying to "circumvent these parameters" and any arrangements that do not take these factors into account "will not achieve peace".
"Failure to find a just solution to the Palestinian cause, Israel's continued settlements, and forcing a reality on the ground without being deterred, this is what raises the biggest question about the credibility of the international community and its institutions," the emir added.
He called upon the international community, particularly the UN Security Council, to assume its legal responsibilities and "compel Israel to lift the siege on the Gaza Strip, and to put the peace process back on track through credible negotiations based on international resolutions and not on force".
Speaking from outside the UN headquarters in New York, Al Jazeera's James Bays said it was interesting to see many Arab states within the Arab League remain consistent in their views on Israel and Palestine - which revolves around the international consensus that there should be a two-state solution.
On September 15, the United Arab Emirates and Bahrain signed agreements to normalise relations with Israel in a strategic realignment of Middle Eastern countries against Iran.
The ceremony was hosted by US President Donald Trump at the White House, capping a dramatic month when the countries agreed to normalise ties without a resolution of Israel's decades-old conflict with the Palestinians, who have condemned the agreements.
The US death toll from the coronavirus topped 200,000 on Tuesday, a figure unimaginable eight months ago when the scourge first reached the world's richest nation with its sparkling laboratories, top-flight scientists and stockpiles of medicines and emergency supplies.
"It is completely unfathomable that we've reached this point," said Jennifer Nuzzo, a Johns Hopkins University public health researcher.
The bleak milestone, by far the highest confirmed death toll from the virus in the world, was reported by Johns Hopkins, based on figures supplied by state health authorities.
But the real toll is thought to be much higher, in part because many COVID-19 deaths were probably ascribed to other causes, especially early on, before widespread testing.
The number of COVID-19 deaths in the US is equivalent to a 9/11 attack every day for 67 days. It is roughly equal to the population of Salt Lake City or Huntsville, Alabama.
And it is still climbing. Deaths are running at close to 770 a day on average, and a widely cited model from the University of Washington predicts the US toll will double to 400,000 by the end of the year as schools and colleges reopen and cold weather sets in. A vaccine is unlikely to become widely available until 2021.
"The idea of 200,000 deaths is really very sobering, in some respects stunning," Dr Anthony Fauci, the government's top infectious-disease expert, said on CNN.
The US hit the threshold six weeks before a presidential election that is certain to be in part a referendum on President Donald Trump's handling of the crisis.
In an interview on Tuesday with a Detroit TV station, Trump boasted of doing an "amazing" and "incredible" job, adding: "The only thing we've done a bad job in is public relations because we haven't been able to convince people - which is basically the fake news - what a great job we've done."
And in a pre-recorded speech at a virtual meeting of the United Nations General Assembly (UNGA), Trump lashed out at Beijing over what he called "the China virus" and demanded that it be held accountable for having "unleashed this plague onto the world". China's ambassador rejected the accusations as baseless.
For five months, America has led the world by far in sheer numbers of confirmed infections and deaths. The US has less than 5 percent of the globe's population but more than 20 percent of the reported deaths.
Only five countries - Peru, Bolivia, Chile, Spain and Brazil - rank higher in COVID-19 deaths per capita. Brazil is second on the list of countries with the most deaths, with about 137,000, followed by India with approximately 89,000 and Mexico with about 74,000.
"All the world's leaders took the same test, and some have succeeded and some have failed," said Dr Cedric Dark, an emergency physician at Baylor College of Medicine in Houston who has seen death first-hand. "In the case of our country, we failed miserably."
Black people, Hispanic people and Native Americans have accounted for a disproportionate share of the deaths, underscoring the economic and healthcare disparities in the US.
Pandemic readiness
For the US, it was not supposed to go this way.
When the year began, the US had recently garnered recognition for its readiness for a pandemic. Health officials seemed confident as they converged on Seattle in January to deal with the country's first known case of coronavirus, in a 35-year-old Washington state resident who had returned from visiting his family in Wuhan, China.
On February 26, Trump held up pages from the Global Health Security Index, a measure of readiness for health crises, and declared: "The United States is rated No 1 most prepared."
It was true. The US outranked the 194 other countries in the index thanks to its labs, experts and strategic stockpiles. The US could also boast of its disease trackers and plans for rapidly communicating lifesaving information during a crisis.
The leadership of the US Centers for Disease Control and Prevention was respected for sending help to fight infectious diseases around the globe.
But the stealthy coronavirus slipped into the US and spread undetected. Monitoring at airports was loose. Travel bans came too late. Only later did health officials realise the virus could spread before symptoms show up, rendering screening imperfect.
The virus swept into nursing homes, where infection control measures were already poor, claiming more than 78,000 lives.
It also exploited inequalities in the US: Nearly 30 million people in the country are uninsured, and there are stark health differences among racial and ethnic groups.
At the same time, gaps in leadership led to shortages in testing supplies. Internal warnings to ramp up production of masks were ignored, leaving states to compete for protective gear. Governors led their states in different directions, adding to public confusion.
Trump downplayed the threat early on, advanced unfounded notions about the behaviour of the virus, promoted unproven or dangerous treatments, complained that too much testing was making the US look bad, and disdained masks, turning face coverings into a political issue.
On April 10, the president predicted the US would not see 100,000 deaths. That milestone was reached on May 27.
Nowhere was the lack of leadership seen as more crucial than in testing, a key to breaking the chain of contagion.
"We have from the very beginning lacked a national testing strategy," Nuzzo said. "For reasons I can't truly fathom we've refused to develop one." Such coordination "should be led out of the White House," not by each state independently, she said. "We aren't going to restore our economy until every state has this virus under control."
Overlooked cause of death
The real number of dead from the crisis could be significantly higher: As many as 215,000 more people than usual died in the US from all causes during the first seven months of 2020, according to CDC figures. The death toll from COVID-19 during the same period was put at about 150,000 by Johns Hopkins.
Researchers suspect some coronavirus deaths were overlooked.
Other deaths may have been caused indirectly by the crisis, by creating such turmoil that people with chronic conditions such as diabetes or heart disease were unable or unwilling to get treatment.
Dark, the emergency physician at Baylor, said before the crisis, "people used to look to the United States with a degree of reverence. For democracy. For our moral leadership in the world. Supporting science and using technology to travel to the moon."
"Instead," he said, "what's really been exposed is how anti-science we've become."
Palestine has quit its current chairmanship of Arab League meetings, the Palestinian foreign minister said on Tuesday, condemning as dishonourable any Arab agreement to establish formal ties with Israel.
Palestinians see the deals that the United Arab Emirates and Bahrain signed with Israel in Washington a week ago as a betrayal of their cause and a blow to their quest for an independent state in Israeli-occupied territory.
Earlier this month, the Palestinians failed to persuade the Arab League to condemn nations breaking ranks and normalising relations with Israel.
Palestine was supposed to chair Arab League meetings for the next six months, but Foreign Minister Riyad al-Maliki told a news conference in the occupied West Bank city of Ramallah that it no longer wanted the position.
"Palestine has decided to concede its right to chair the League's council [of foreign ministers] at its current session. There is no honour in seeing Arabs rush towards normalisation during its presidency," Maliki said.
In his remarks, he did not specifically name the UAE and Bahrain, Gulf Arab countries that share with Israel concern over Iran. He said Arab League Secretary-General Ahmed Aboul Gheit had been informed of the Palestinian decision.
The Palestinian leadership wants an independent state based on the de facto borders before the 1967 war, in which Israel occupied the West Bank and the Gaza Strip and annexed East Jerusalem.
Arab countries have long called for Israel's withdrawal from illegally occupied land, a just solution for Palestinian refugees and a settlement that leads to the establishment of a viable, independent Palestinian state, in exchange for establishing ties with it.
In a new move addressing internal Palestinian divisions, officials from West Bank-based President Mahmoud Abbas's Fatah faction and the Gaza-based Hamas movement were due to hold reconciliation talks in Turkey on Tuesday.
Hamas seized the Gaza Strip in 2007 from Fatah forces during a brief round of fighting. Differences over power-sharing have delayed implementation of unity deals agreed since then.
Follow us on twitter (ajuede.com) or on Instagram (ajuedeman) for details of the global situation presently.