Christians Demonstrate Faith in God as the US government plans to End christianity
Christian singer Sean Feucht said believers should expect attacks on their faith in 2023 after a newspaper editorial labeled his ministry "dangerous."
Feucht has led worship services across the country since 2020, when he founded his "Let Us Worship" tour in response to the COVID-19 lockdowns.
Ahead of a stop in Boise, Idaho, last week, an Idaho newspaper called Feucht and his allies "dangerous activists" and "charlatans" who wanted to "inject their brand of Christianity into government."
Feucht told Fox News Digital the newspaper was right, because Christians were a "threat" to the culture's values.
CHRISTIAN SINGER MOCKS IDAHO NEWSPAPER CALLING WORSHIP GATHERING 'DANGEROUS:' GOOD NEWS IS THAT GOD WINS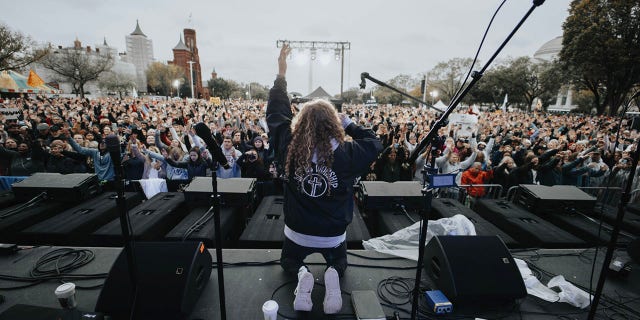 "Well, I think they're absolutely correct," Feucht responded. The Christian missionary and activist explained how it wasn't the first time his ministry had faced opposition.
"We've gotten fined and persecuted. We've had Satanists throw blood on us. We've had to throw our gear into the river. We've had superglue poured on all of our equipment. We've had our generators unplugged. We've had permits revoked last minute for no explanation. We've encountered pretty much any different kind of resistance you can imagine over the last few years," he explained.
Feucht believes he's faced heavy resistance because the culture's gatekeepers don't want Christians to have an influence on our society.
"I think that when you see thousands of Christians show up to the state capitol, and you have Satanists there, you have the drag queens there, you have sometimes Antifa there, and you have all this resistance – Why is there so much resistance to the church getting outside of the four walls?" he posed. "They want to keep the church in the four walls. But the moment that we take a stand, and we take accountability for our state capitals, it's a threat to them."
BAY AREA CHRISTIANS FIGHTING CITY WHICH TOOK DOWN CROSS: 'THEY REALLY HATE WHAT IT STANDS FOR'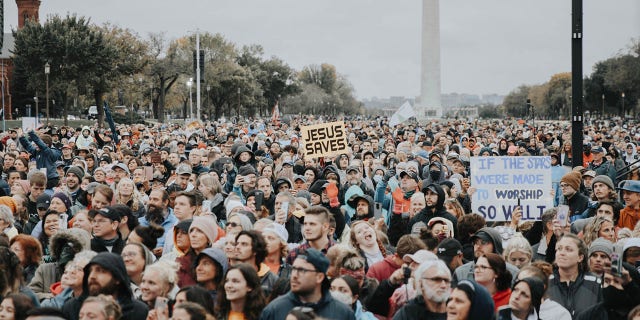 Feucht said the church is "dangerous" in the sense that the faithful are becoming more bold in speaking out against "ideologies" in society that go against Christian and conservative beliefs.
"It really shows you that there is a group of people with an ideology that hate what we experience, that hate the church coming awake and coming alive," he stated. "This is not the pre-COVID church. This is the post-COVID church. We understand that our liberties are at stake. We understand the power of what the government can do to shut us down. And so this is a time for us to rise up in boldness. And I was actually glad that they wrote that."
He also found it ironic that the paper went after his worship events, after media outlets called left-wing riots "peaceful" in 2020.
"I think it's funny that papers like that don't say anything when city blocks are burned down or rioting is happening. But they accuse the church---I mean, if you saw the videos of that event, it was very peaceful and joyful. And so that's their version of dangerous, I would say we need more of that," he laughed.
AFTER FALL OF ROE V. WADE, CHRISTIAN SINGER SEAN FEUCHT CELEBRATES 'GOODNESS OF GOD'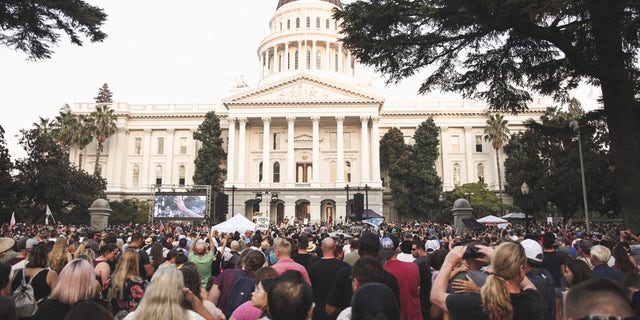 Feucht told Fox News Digital that he visited nearly 150 cities across the U.S. for his worship tour. He saw an opportunity to launch a new movement last year after the Supreme Court overturned Roe v. Wade.
"We saw Roe v Wade be overturned, which was a huge prayer request, that that is something that I've been very involved with since I was a teenager," Feucht, a former missionary kid, said. "We recognized how powerful state governments are….And so we just really felt like we felt like God gave us this mandate to bring worship and revival and prayer and unity to every single U.S. capital in America. And it was a very big undertaking," he explained.
CLICK HERE TO GET THE FOX NEWS APP
Feucht said there was a lot of "red tape" and "bureaucracy" that stalled his "Kingdom to the Capitol tour" bringing worship services to capitols across the U.S., but it was worth it for the things he's witnessed.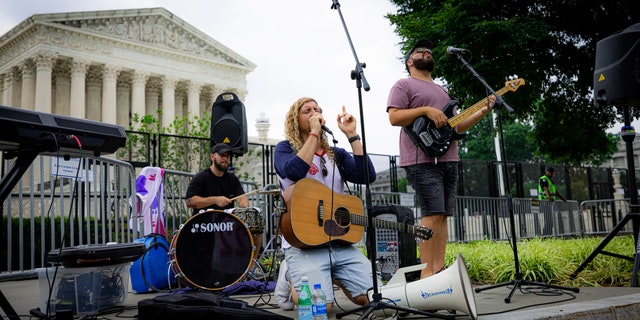 In Springfield, Illinois, he shared how rain forced their service inside the capitol rotunda. A janitor for the building walked up to him in tears, explaining he had prayed every day for 20 years for Jesus to be worshiped there. In Richmond, Virginia, he said a girl who had scheduled a sex-change surgery told him she changed her mind after being dragged to one of his events by her mother the previous year. Feucht relayed how the girl told him she "realized her true identity" that night, never went to the appointment, and now has a boyfriend she's ready to marry.
The worship leader said he cherishes these personal stories and seeing how God has answered prayers.
"But what we've seen is it's been incredibly powerful….As the church gathers on the steps of every state capitol, it's starting to make waves. It's starting to make noise. People are starting to realize, wow, the church is not asleep in Idaho. You know, the church is not asleep in Washington," he said. "We had almost 6,000 Christians show up on the Capitol steps of Olympia, Washington. There's a lot of people in America that didn't know there were 6,000 Christians that live there. It's just been really, really powerful."