Boris Johnson refuses to rule out suspending parliament again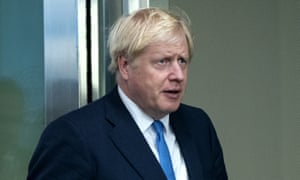 The British prime minister, who is in New York for a UN summit, also indicated he would not feel obliged to resign if the justices rule he misled the Queen in his reasons for suspending parliament.
Asked if he felt a verdict going against him would make his position untenable, Johnson said: "No. I think the reasons for wanting a Queen's speech are extremely good."
The panel of 11 judges were tasked with hearing appeals from two separate legal challenges to Johnson's decision to prorogue parliament – the technical term for gaps in parliamentary sessions which do not involve dissolution before an election – for five weeks from 9 September.
Johnson has repeatedly insisted that the prorogation was purely technical, allowing a pause in Commons proceedings so a new set of planned legislation could be announced in a Queen's speech.
Johnson said: "Actually, when it comes to parliamentary scrutiny, what are we losing? Four or five days of parliamentary scrutiny when parliament has had three years to discuss the issue, and will be able to come back and discuss Brexit after the European council on 17 and 18 October."
Asked if it would be a resignation matter if he lost the case, Johnson said: "I will wait and see what the justices decide, but as I have said before, I believe that the reasons for wanting a Queen's speech are very good indeed."
The PM declined to rule out prorogation again before the current Brexit deadline of 31 October if the first suspension was struck down, saying only: "I am saying that parliament will have bags of time to scrutinise the deal that I hope we'll be able to do."