Lionel Messi and Megan Rapinoe named Fifa footballers of the year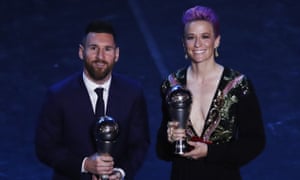 With 21 of the 55 nominees playing in England, it was natural that the Premier League would dominate the men's awards, but there was surprise as Messi beat Virgil van Dijk, who lifted the Uefa player of the year trophy, to the main prize.
On presenting the award, the Fifa president, Gianni Infantino, condemned the latest incident of racism in Italy. "We have to say no to racism in any form. No to racism in society and no to racism in football," he said.
"We are very fortunate, we've had a very fortunate past and present and hopefully we will have a very fortunate future. But there are people out there that aren't in the same place and that is why tonight I want to announce that I've joined the Common Goal campaign."
Of Van Dijk he said: "It's really nice that Virgil has got his reward now. He doesn't have to win it. Just go through the names: Cristiano Ronaldo, Lionel Messi and Virgil van Dijk. That's already crazy and I'm really happy for him and the other boys."
"That very rarely happens to me, she said before thanking her teammates "who let me be a little bit wild at times but reel me in when needed". She then, characteristically, used her platform as a call to arms.
"We have so much success, we have incredible platforms. I ask everybody here to lend your platform, to lift people up, to use this beautiful game to change the world for everyone."
England's Lucy Bronze, widely recognised as the best defender in world, missed out on the main award to Rapinoe, but was proud to be representing English football at the awards. "The whole England team is improving, the fact that we made three consecutive semi-finals is a good reason for that," said Bronze, who was named in the women's Best XI of the year. "Teams grow and we've got a lot of talent. I know Kelly Smith has been to these kind of events before and in the future we're going to have more and more England players, I hope so anyway."
On her manager's belief that she should lift the trophy, Bronze said: "I can imagine. I know what he's like, I'm happy to be here and I'm happy to be in the top three after such an up-and-down season. A good season with Lyon, we won a lot, and then the World Cup was heartbreaking but I think that's why the other two had more of a chance."