To prevent a chaotic end to lockdown, the public should be told the true risks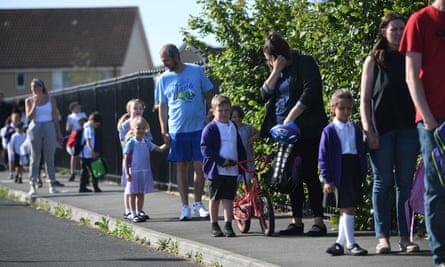 'Children are returning to school on the basis that the risk to them and their families is 'minuscule'. What does that mean? One in a thousand, one in a million?' Children return to school on Monday in Costessey, Norfolk.

Photograph: Joe Giddens/PA
Just tell the truth. If the government is to get the country out of the mess of lockdown, it must take people into its confidence. It scared us into it, and must now reassure us out of it.
The risk differential was suppressed when the government wanted blanket public support for lockdown. Now it must make sense to come clean. Clearly children returning from school should avoid contact with the vulnerable elderly. But avoid fit 60-year-olds?
Likewise the two-metre versus one-metre "rule". So wide a gap may seem petty to a bureaucrat with a nice back garden. For a hospitality sector dependent on filling 80% of capacity – such as Britain's 47,000 pubs – it is life or death. Why not give the exact risk involved in two metres, not just say it is "too high"?
The rough and tumble of politics has proved ill-suited to this crisis. Having insisted Britons take no risks with coronavirus, politicians must now persuade them to take some. They must somehow manage the idea of public risk back to normal. They will only do that by giving evidence.
Follow us on twitter (ajuede.com) or on Instagram (ajuedeman) for details of the global situation presently.