CNN's Jake Tapper insists he won't 'shy away' from covering Hunter Biden after avoiding laptop scandal in 2020
CNN anchor Jake Tapper appeared adamant about the importance of covering the Hunter Bidenscandal Monday, which was the complete opposite approach he took during the 2020 presidential election.
During an interview on the podcast "On with Kara Swisher," Tapper was asked about the recent plea agreement President Biden's son reached with the DOJ over his tax crimes. Critics have panned the plea as a "sweetheart deal," particularly in the wake of explosive IRS whistleblower allegations that prosecutors were blocked from bringing heavier charges and investigators were told not to look into potential financial ties between Hunter and his father.
"I think we cover it. We have been covering it and we need to cover it," Tapper said.
"Look, I mean, Hunter Biden is who he is. It's pretty clear who he is," Tapper continued. "In addition to being an addict, he's a guy who ethically has - there have been questions raised about his behavior, and I think it's worth covering. It's also worth covering in context, the context of everything that's being said in terms of like how fact-based any of it is or how evidence-based any of it is, but I'm not gonna shy away from covering Hunter Biden. He is the president's son and has made a lot of money being the president's son."
CNN'S JAKE TAPPER SAYS DURHAM REPORT IS 'DEVASTING' FOR FBI AFTER SPENDING YEARS LEGITIMIZING RUSSIAGATE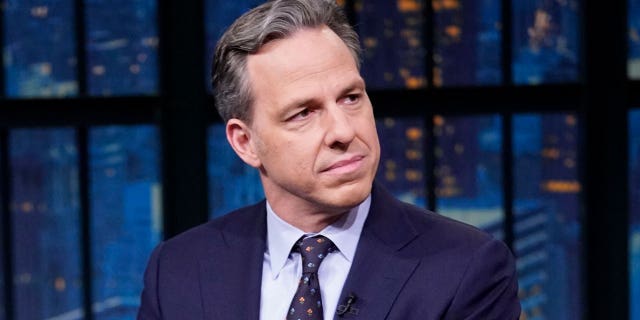 Tapper's sentiments in July 2023 are certainly not the same as those in October 2020, in the days following the New York Post's bombshell reporting on Hunter Biden's infamous laptop that shed light on his shady foreign business dealings, including mention of "10% for the big guy," which is widely believed to be Joe Biden.
"The rightwing is going crazy with all sorts of allegations about Biden and his family. Too disgusting to even repeat here," Tapper told a panelist at the time. "I mean, some of the ones I've seen from the president's son and some of the president's supporters are just wildly unhinged."
JAKE TAPPER DECLARES HUNTER BIDEN CLAIMS 'TOO DISGUSTING' TO REPEAT ON CNN: 'THE RIGHTWING IS GOING CRAZY'
According to Grabien transcripts, in the days following the Post's laptop news, neither of Tapper's two CNN programs made any mention of the terms "laptop," "New York Post" or "Tony Bobuliski," Hunter Biden's former business partner who came forward at the time confirming emails from the laptop and insisting the former vice president was involved in their business dealings.
However, Tapper did invite multiple corespondents and guests who peddled the false narrative that the content from the laptop was "Russian disinformation" and a "right-wing conspiracy."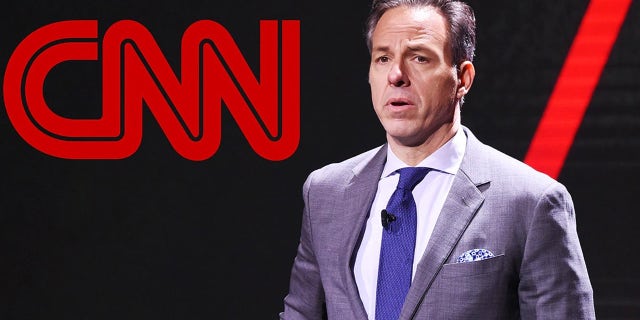 Tapper was perhaps following the orders of his then-boss Jeff Zucker and CNN political director David Chalian, who told staff the network was spiking the Hunter Biden laptop story, according to an audiotape released by Project Veritas.
"Obviously, we're not going with the New York Post story right now on Hunter Biden," Chalian was heard saying during a conference call on Oct. 14, 2020, the same day the Post released its first reports on Hunter Biden's emails. Chalian later insisted the report was "giving its marching orders" to the "right-wing echo chamber about what to talk about today."
Notably, CNN verified the authenticity of the laptop in July 2022.
2022: THE YEAR THE HUNTER BIDEN LAPTOP WAS FINALLY VERIFIED BY THE MEDIA
Fast-forward to October 2022 when Tapper landed a rare interview with President Biden but allotted just one question about Hunter as reports at the time indicated the DOJ was pursing tax and gun charges against his embattled son.
"Personally and politically, how do you react to that?" Tapper lobbed the softball question to the president.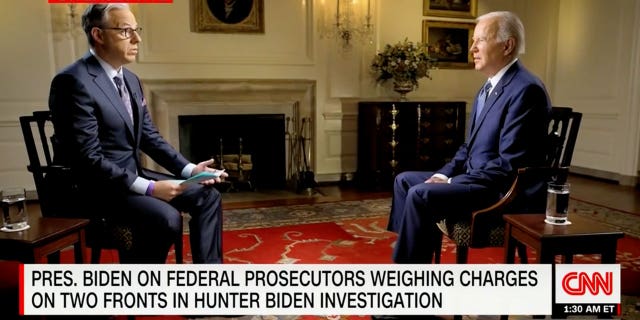 Tapper failed to ask any follow-up questions and didn't even touch the looming questions over Hunter Biden's foreign business ties that could implicate his father, avoiding concerns about whether the president was involved in any of his son's financial dealings and if he himself ever received kickbacks.
There were also no inquiries about revelations that several of Hunter Biden's associates visited the Obama-Biden White House even after Biden claimed on the campaign trail that he never talked business with his son
While he avoided covering the Biden scandal during the 2020 election, Tapper was one of CNN's biggest champions of Russiagate during the Trump years, including giving legitimacy to the debunked Steele dossier, the infamous Clinton campaign-funded memo put together by ex-British spy Christopher Steele that laid out salacious and unfounded accusations about then-candidate Donald Trump.
In May, Tapper acknowledged the Durham reportwas "devastating" for the FBI and that its findings actually "exonerate" Trump to a degree.